SEGMENT ONE:
(Plat 1)--This blue plat represents Henry Haggard's 180 acres, the northernmost property in Crowson's Cove I've mapped to date (15 Jun 2004).
Cove Creek enters his land at the southwest corner and provides the southwestern boundary line. It then continues north through the "panhandle" of his property, exiting to the north to where it will eventually leave the cove and follow the hollow--actually more of a canyon cut years later through the rock for the road--before joining today's Walden's Creek and emptying into the river near Sevierville.

WHAT'S THERE TODAY: Look at Henry Haggard's blue-colored plat. Do you see the word "Hazel" with the arrow pointing to corner number 17? This is very close to the intersection today of Wears Valley Road and Valley View Road
[John M. Gwin Note: I've developed a page for this Henry Haggard, since he moved from Crowson's Cove to middle Alabama about the same time that John Gwin married Jane Walker and moved to Dallas Co., AL. This is most likely the land of Rev. Henry Hazelrigg Hatcher, Sr., who moved from here to Bibb Co., AL, where he pastored a church, lived to his mid 90's, died, and is buried. See plat no. 10 below.]

(Plat 2)--Aaron Crowson, the first anglo settler in the valley, lived somewhere on the 95 and 3/4 acres of land represented by this orange plat. The property is very narrow at its northern tip, measuring only one and one-half chains (ninety-nine feet).
WHAT'S THERE TODAY: Crowson lived and died in the valley, being buried here on his own land in the Crowson Cemetery (see photos, above) located somewhere just south of the southern border of what is marked in green here and labeled "Brumley and Co." In fact, Valley View Road, on my USGS map, crosses Crowson's land at approximately the same place as this southern border of Brumley's land and at exactly the same angle (S65E), leading me to believe that the road may have been there in 1807 and perhaps formed this southern boundary!

(Plat 3)--The trapezoidal property along its west-central border, represented here in green and looking to be about three acres, is said on his deed to belong to "Brumley and Co." I speculate that, due to its small size, this land was the site of some commercial enterprise, perhaps the local general store. I asked George Fox about Brumley, and he wrote, "I looked at various records I have and found a Thomas Brumley who lived in Tuckaleechee, Blount County. Could not find any Brumley in Sevier County, but there are few records, so that doesn't prove anything." This may be the very person we're looking for, though, since Tuckaleechee Cove is just a couple of miles south of Crowson's, just across the county line. Another webpage, listing Blount County Marriages, has a BRUMLEY, Margaret, marrying a MAJOR, James, on 13-JAN-1803.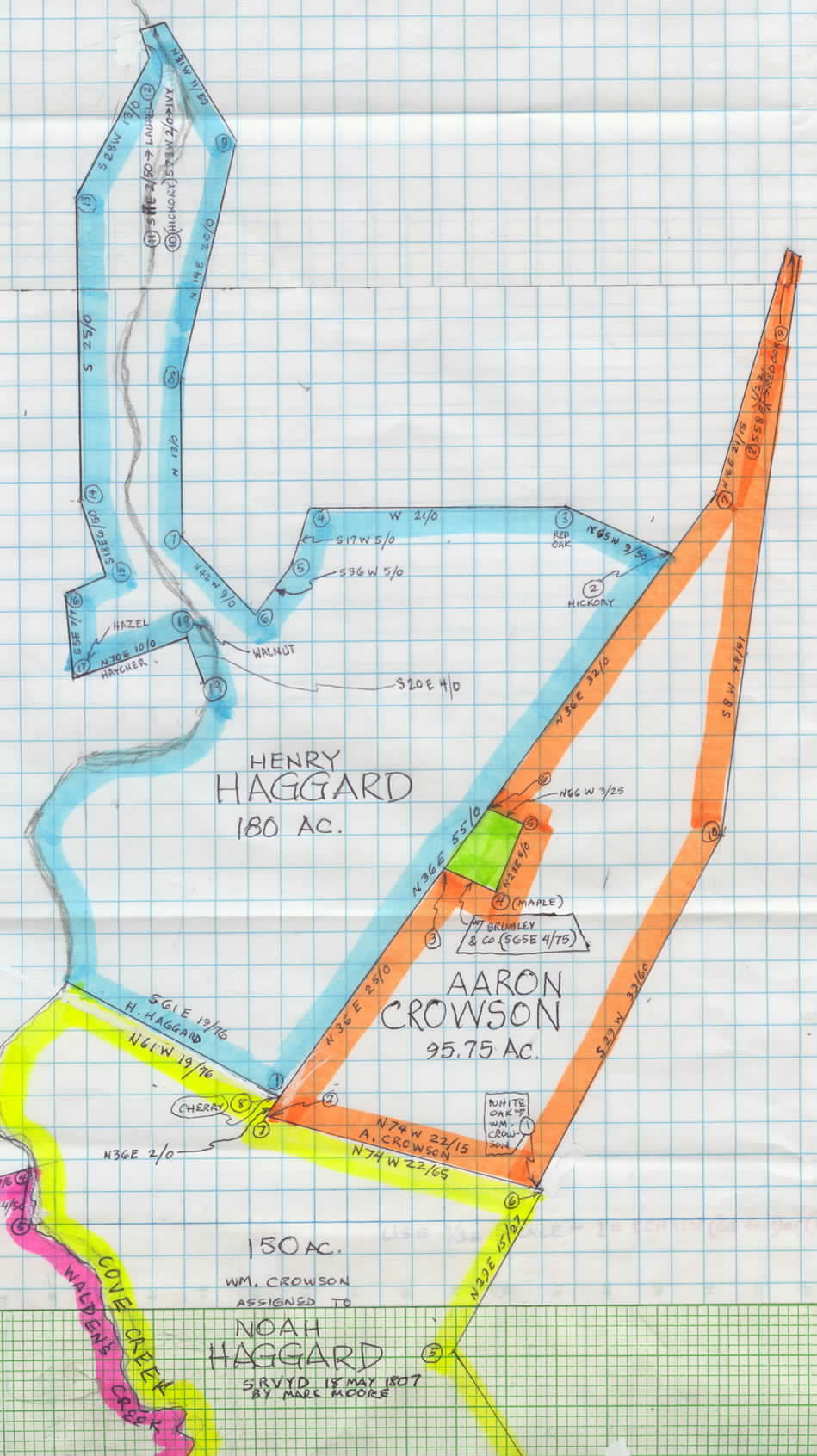 SEGMENT TWO:
(Plat 4)--The 93.75 acres represented by this mauvish plat was first owned by Richard Shields who sold it to Jacob McGhee.
Cove Creek, originally (and on this deed!) called Walden's Creek, enters the property from the southwest, crosses it northerly, and becomes its northeastern boundary, exiting at its northernmost point.
WHAT'S THERE TODAY: This part of today's Cove Creek still follows this line almost exactly!

(Plat 5)--The property of this yellow-bordered plat was first owned by William Crowson, alleged to be the father of Aaron. William sold this land to Noah Haggard in 1807, the year of this survey, and moved with his family to Giles Co., TN.
Noah was either the son or grandson of (1)--Henry Haggard, now his next-door neighbor to the north.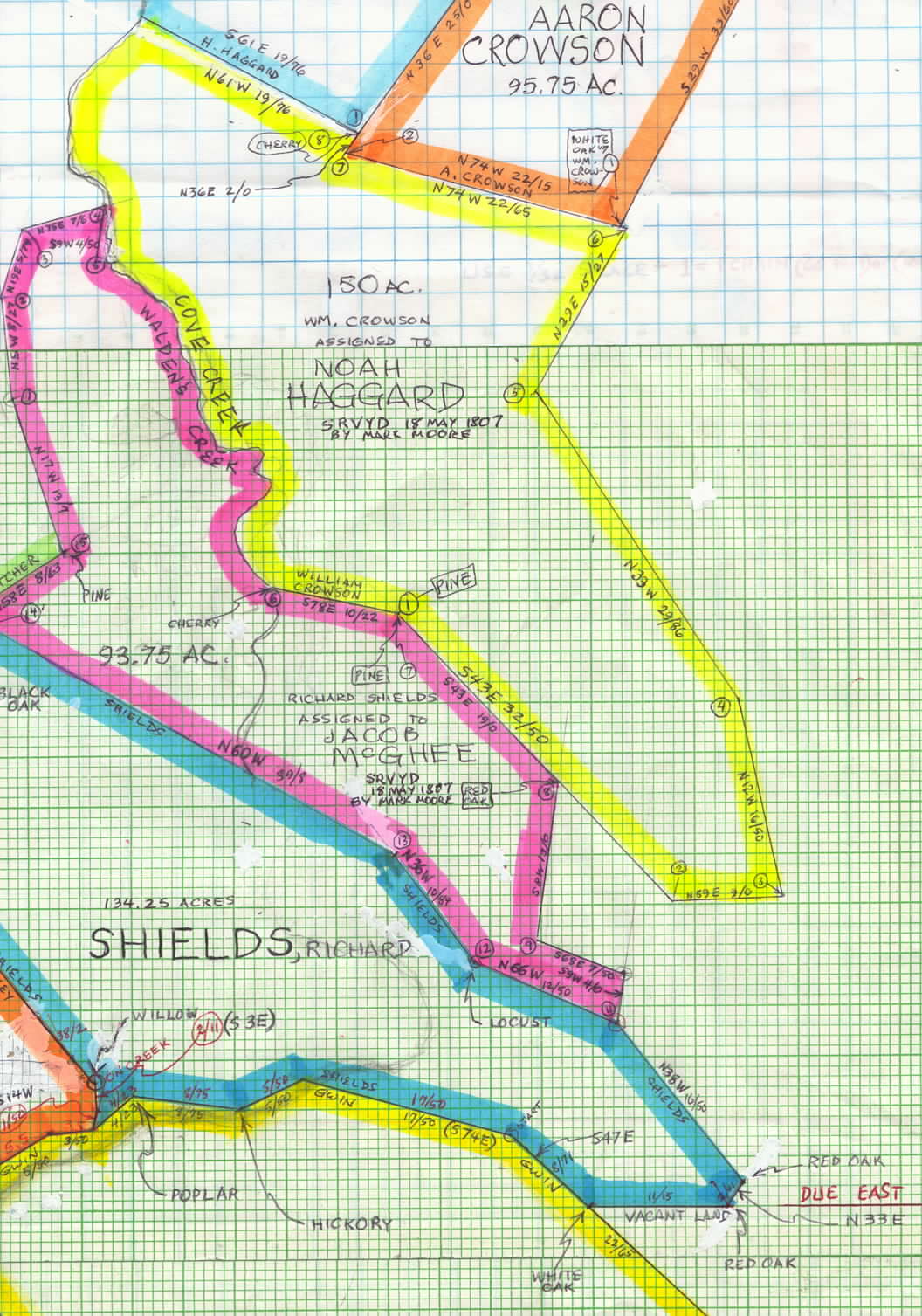 SEGMENT THREE:
(Plat 6)--Richard Shields, whose property is represented by this blue-bordered plat, was my gggg-grandfather Isham Gwin's neighbor to the north. I've not seen a period drawing of where Cove Creek crossed his property, but it had to be something like the penciled lines indicate, from south to north. Click here for some recent developments.

(Plat 7)--This yellow map of Isham Gwin's 249-acre property shows Cove Creek (in pencil) entering it from the westernmost corner, continuing along its northern border, and exiting it at its northernmost point into Shields' land.
His was the first deed I found and the first map I drew in this entire project. I oriented all the others from it--i.e., I added Bennifield's plat to it using their common border as a starting point, then added Shields' in the same way, then Brickey's (orange), and continued on around in a counter-clockwise direction, using common borders to attach each to the one drawn previously.
Whatever margin of error existed, then, because of my own errors due to mistranscription of the deeds, the tiny scale of the drawings, the imprecision of my instruments, etc., was multiplied six to eight times by the time I arrived at the Kinsey Veach plat, which clearly does not yet quite fit into the puzzle.
Additionally, we've yet found neither deed nor surveyor's sketch for the George Amerine property; we've only seen his name referenced in other deeds as a neighbor of the given landowners. Nevertheless, if and when we can make Veach's plat fit, we should have a picture of Amerine's land by process of elimination, since it is surrounded by all the others.
Here are some notes from Barb Ward: "...on the internet and found George Amerine--(Land grant #336). Don't know if this is on the films you and I ordered but will check. He bought 132 acres on Cove Creek... George was a Jr.; his father was George Amerine, Sr. George Jr's grandfather, John Henry Amerine, was from Germany/Switzerland, b. 1732 and died 1805, Bedford Co., PA. That is where George Amerine was born: 1784 Bedford Co., PA, m. Luda Hulda (1802-1860), and died 29 Jan 1866, Blount Co., TN...Nathan Veach of Sevier Co. Land grant #1393. That might be on the films too. Peter Brickey (Blount Co. Land Grant #421)."
Also, here are two marriages I found in next-door Blount Co. occurring some 40-50 years later: AMERINE, Richard, married WELLS, Serena J., on 30-JAN-1851; and AMORINE, Perlina, married ELLIS, John, on 16-DEC-1855.
WHAT'S THERE TODAY: In July 2004 I visited the Sevier County Genealogical Library in Sevierville, TN, and saw where someone else had already drawn similar maps to these and placed Crowson's Cove in the Wear Valley. Sure enough, the maps coincide almost perfectly (see my notes on "margin of error" two paragraphs above). The quarter circle formed by the east side of Bennifield's land and the SE side of Gwin's land, including its easternmost point, goes around a small mountain today called Buckeye Knob. The west side of Benefield's property pretty much coincides with Katy Holler Road.
Further, today's Wear Valley Road cuts through the center of Peter Brickey's land, with the gas station at the intersection of Wear's Valley and Roberson Roads being very near the geographical center of his property. Roberson Road then continues in a southeasterly direction almost parallel to and very near the line shared by Gwin and Amerine.

(Plat 8)--Charle's Bennifield's little 24.75-acre plat (green, south of Gwin's) was difficult to draw, as evidenced by he large amounts of White-Out! The difficulty came by reason of two transcription errors--one mine, the other the surveyor's. With the help of one of my 6th-grade students (thanks again, Jessica N!), we discovered mine, which made the surveyor's suddenly obvious. Bennifield is probably correctly spelled Benefield.
And while Veach's plat fits all three of its bordering properties perfectly, it doesn't fit them at the same time, which means we'll have to redo the entire map and readjust each plat until Veach's fits.
I'm just not sure I'm up to that right now. Maybe we'll have to fudge a little bit.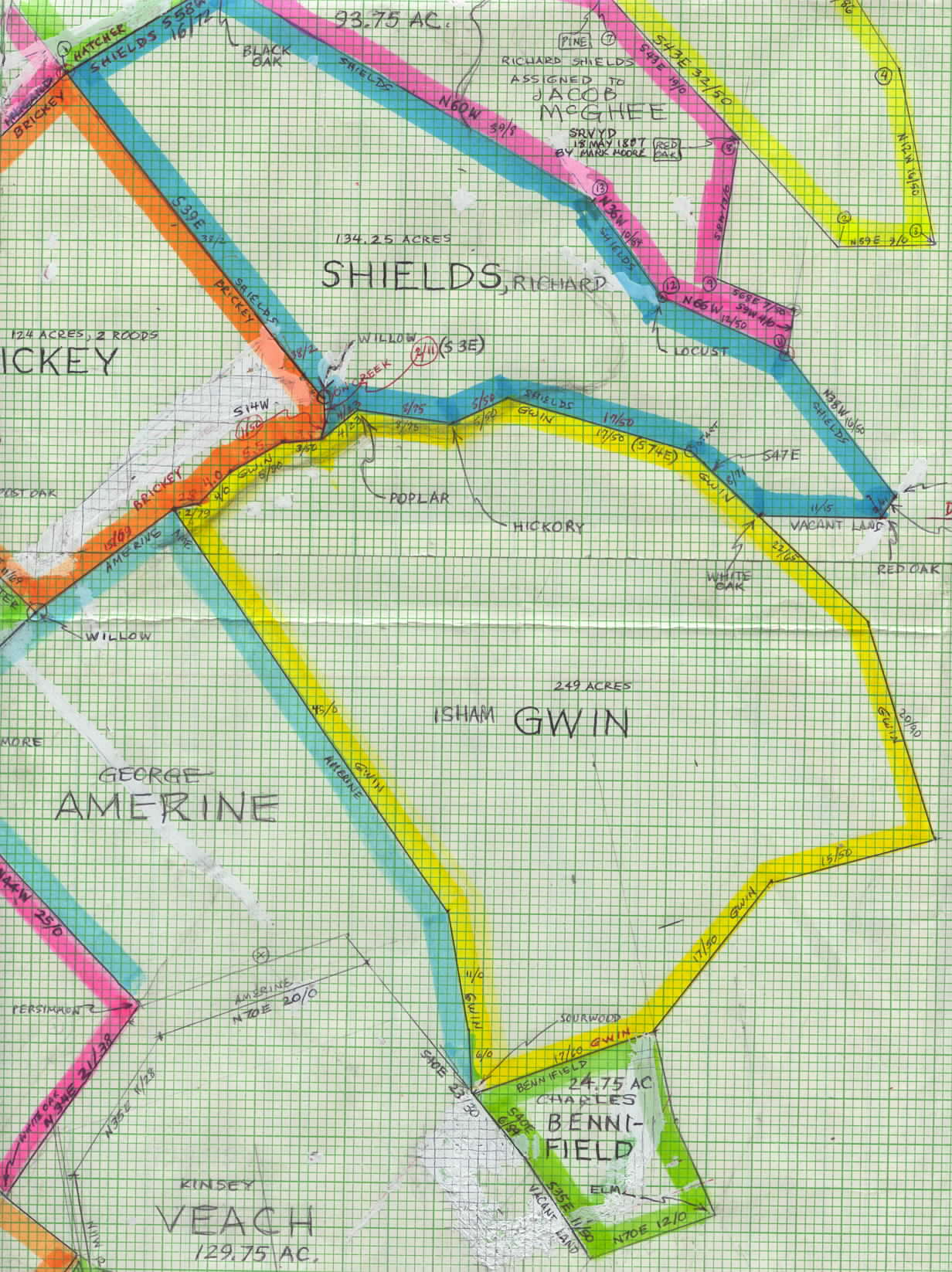 SEGMENT FOUR:

(Plat 9)--William Hatcher (top, begun in green, in pencil) owned 160.25 acres north and east of Shields' two properties. While I've been able to establish for certain several of the borders as being common with Shields', I've not yet been able to make the ends meet. Thus, only a penciled estimate can be shown at this time.

(Plat 10)--A similar problem exists for this 81.75-acre second property of Henry Haggard. We have the surveyor's sketch map (and thus the shape), but we've not yet seen the deed with precise survey instructions. So for now, the penciled estimate, begun in mauve, will have to do. It is not clear, however to which Henry this property belonged. We have learned that Rev. Henry Hazelrigg Haggard, Sr., was one of the first settlers in the valley, and it makes sense, then that his would be one of the first farms one would cross when entering the valley (see number one above). He may have owned this land, too; however, he also had a son, Henry Hazelrigg Haggard, Jr., who may have been the owner.

(Plat 11)--At this point let me acknowledge the invaluable assistance of TWO FRIENDS, without whose help this project would still be just an idea. The first is my cousin, Barbara Ward, who saw what I was doing and searched for, found, and sent me the copies of Peter Brickey's, Richard Shields', and Charles Bennifield's deeds. She challenged me to continue seeking to expand our knowledge of the Crowson's Cove community.

Brickey's plat appears here in orange. At that time, it was the westernmost portion of the community known to us. And now we knew that a "meeting house" existed, the property for which extended at least partially into Brickey's land, but we knew nothing else of it.

Enter the second, George Fox, who, with his wife, Juanita, both historians and genealogists with roots in Sevier County, published the book that originally led me to (6)--Isham Gwin's deed. I'd been in touch with him a year earlier to ask permission to use portions of their book in this website (they graciously consented).

Unbeknownst to me, however, they had long been searching for the site of Crowson's Cove as well, and they had concluded that this "meeting house" was none other than the Wear's Cove Baptist Church. They contacted the Tennessee Baptist Association, who told them that the church itself was long gone, but the marked graves of (2)--Aaron Crowson and others seemed to indicate the church's location. They drove there and took pictures, and when he learned of our progress on this end, he sent me copies of these many deeds and surveyors' sketches and other helpful documents which have enabled me to make these many more maps. To Barbara, George, and Juanita, here's another giant

THANK YOU!


(Plat 12)--The relatively tiny, three-acre property of the Wear's Cove Baptist Church (plat shown here in yellow) was clearly carved out of the (9)--Haggard and (10)--Brickey farms. The land was purchased by William Davis for the congregation.

[ Until today, I had thought that George and Juanita were right in saying that the grave of Aaron Crowson marked the site of this church. However, today I was able to compare my plat maps with two current USGS 7.5-minute topographic maps of the area (the Gatlinburg, TN, and Wear Cove, TN, quadrangles). For at least the following four reasons, it looks to me like this Wear's Cove Baptist Church property generally coincides with the site of the present-day Wear Valley Church located on the east side of and right beside the Wear Cove Road and just south of Hatchertown:
1. I used my protractor and ruler to measure the linear distance from the present-day Wear Valley Church to the Crowson Cemetery, according to these USGS quad maps, at about 1.05 miles at an angle of N37E. When I translated that to the plat maps I'd drawn, starting at this Wear's Cove Baptist Church property and going N37E 84 chain and 20 links (an equivalent distance), I ended up very near the SW corner of Aaron Crowson's property! (See (2) above and the four photos at the top of the page.)

2. This makes more sense to me, that the Percefield boy, who was killed by Indians in 1794 (some years before the Wears Cove Baptist Church was organized), would've been buried on Aaron Crowson's land. Aaron had been with Percefield but survived that same attack, and since the church didn't yet exist, he would more likely have buried Percefield on his own property.

3. Similarly, I measured on the quad map from the present-day Wear Valley Church to the Hatcher Cemetery, and when I translated it to this plat map, I ended up on William Hatcher's property!

4. I also noticed a Mattox Cemetery south of the present-day Wear Valley Church, and while a similar measurement did not arrive at the plat map for William Maddox (see (16) below), I did end up just east of there on the Abednego Boaz property (see (17) below). But I speculate that Boaz could easily have sold his giant parcel of land after this survey was made, and Maddox could easily have bought part or all of it.

5. Not least of all is the similarity of the general shapes of Cove Creek (then called Walden's Creek--now Walden's Creek is the name for the creek in the next hollow to the north) on the plat maps and Cove Creek on the quads. I plan to go back and draw in Cove Creek where the surveyor, Mark Moore, drew it on his sketch maps. You can see parts of it in pencil on the various maps, and I've mentioned it in my notes for each.

(Plat 13)--Charles Coulter owned 82.75 acres sandwiched between (10)--Brickey and (13)--William Lovelady. It is not yet clear whether Cove Creek crossed onto his land or not. Click here for some recent developments.