An Outline of the Known Family
20.00--John Vardaman and Mrs. Vardaman





21.00--William Vardaman, Sr., m. Magdalena Petersson





22.04--James Vardaman m1. Sabra Liles/Lyles





23.02--Thomas Vardaman, m. Annie Vining





25.06--

Mary Bruce Vardaman

, m.

Edward Martin Adair

25.07--

Nancy Ann Vardaman

, d. age 11




25.09--

Zilpha Thommie Hollaway "Puss" Vardaman

, m.

John McLean McPhail

25.10--

William Sanford Vardaman

, d. in Civil War, m. never

25.11--

James Mathis Vardaman

, d. in Civil War; m. never

25.12--

Adeline Elizabeth Vardaman

; m. never







23.00--Mr. and Mrs. Watson and 23.00--Mr. and Mrs. Flynn





---
John's and Julia's Descendants in More Detail
---
25.08
--John Forsythe Vardaman
--b. 19 May 1835 in Meriwether Co., GA; d. 17 Jul 1906 at home near Goodwater; bd. Smyrna Primitive Bapt. Ch. Cem., near Goodwater, Coosa Co., AL; m.
Julia Ann Flynn
; at least 4 children, 12 grandchildren; here's a delightful
anecdote about their old wash stand
;




The Kellyton Advertiser



J. F. VARDAMAN





Mr. J. F. Vardaman, who was buried at Smyrna Church last Thursday, July 19, was one of the most prominent men of Coosa county. He was born in Meriwether county, Georgia, in 1834. He came to Alabama when a young man, and was soon called off to the war where he served until its close. After the war, upon his return home, he was married to Miss Julia Flinn. He has been elected by the people of the county to many responsible offices. In the fall of 1902, while he held the office of County Superintendent of Education, he had an attack of rheumatism, which compelled him to resign his office. He went to Hot Springs, Ark., for relief. After treatment there he was apparently free from the disease, and upon his return home, while stopping over in Birmingham, in January 1903, he was stricken with paralysis. From that time until his death he was not able to talk. But he bore his suffering with patience and was always cheerful. He was a good man, well liked by every one who knew him. He leaves a wife, two sons, Mr. Marshall Vardman, of Goodwater, and Hon. John W. Vardaman, of LaFayette, two daughters, Miss Ada Vardaman, of Brierfield, and Mrs. T. J. Webb, of Kellyton, to mourn his loss.
We extend to the family our sympathy in this said bereavement.



Obituary of John F. Vardaman

(left)


with notes in daughter Ada's and
grandson Adrian's hands; and

a transcription of it

(above)







---
26.01--
Marshal Evart (Everett?) Vardaman
m.
Clara Owens "Odie" Carlisle
27.01--

Willie Vardaman

,
27.02--

Louie Vardaman

,
27.03--

Annie Vardaman

,
27.04--

Myrtle Vardaman

,
27.05--

Jesse Vardaman

,
27.06--

Johnny Vardaman

,
27.07--

Maggie Vardaman

,
27.08--

Carlisle Thrower Vardaman

,
A page has been created for this family.

For details, please click the above link.

(The first spelling of Marshal's middle name, above,
is taken directly from John F. Vardaman's family Bible
in John F.'s own hand.)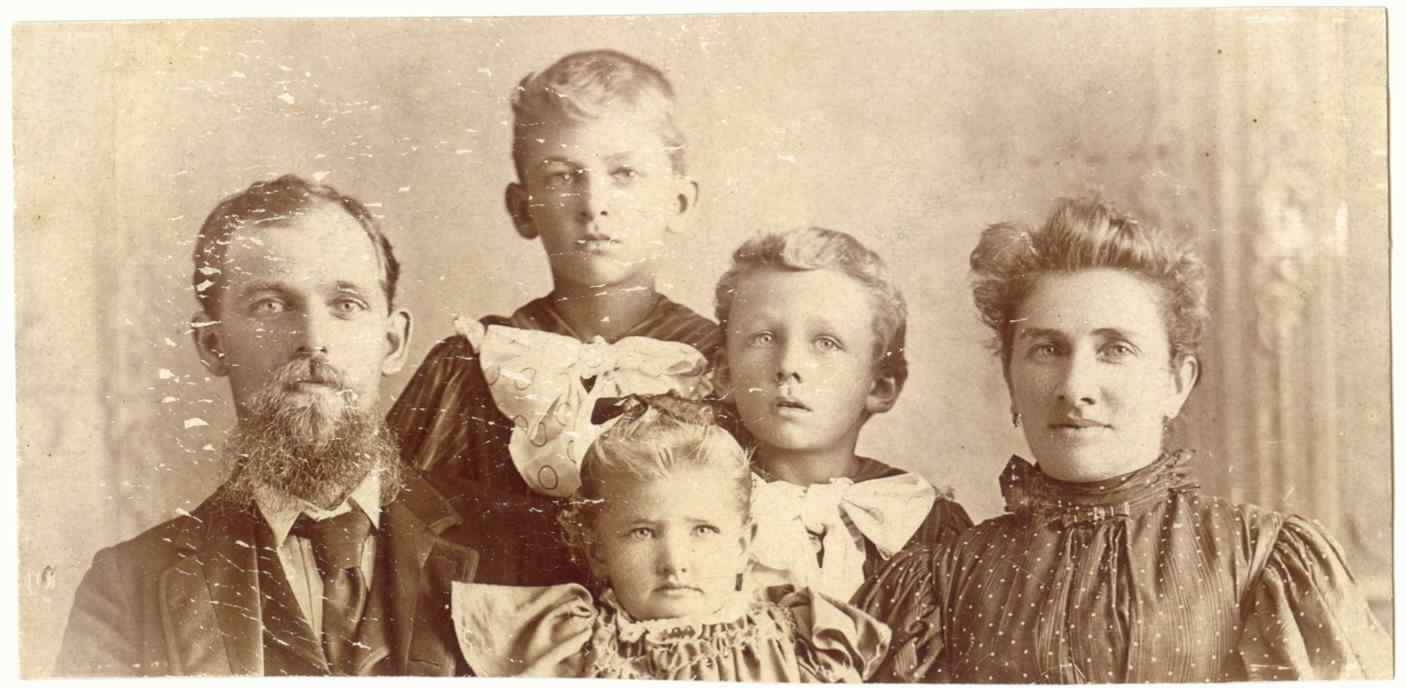 l-r:
Marshall, Willie, Myrtle, Louie, Odie --ca. 1895

l-r:
unk. (neighbor?), Louie, Jesse, Marshall, Maggie, Myrtle, Willie, Odie, Johnny --ca. 1905
---
26.02--
John William Anderson
"J. W."
/
"W."
/
"Dubbie"
Vardaman,
b. 19 Oct 1868 in Tallapoosa Co., AL; d. 3 May 1911 at Lafayette, Chambers Co., AL; bd. Smyrna Primitive Bapt. Ch. Cem., near Goodwater, Coosa Co., AL; Probate Judge of Chambers Co.; never married, but was engaged to marry Ms.
Diamond Grimmett
when he died unexpectedly at age 42; no children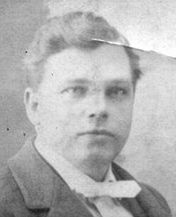 Judge J. W. A. "Uncle Dubbie" Vardaman
---
26.03--
Maggie Mae Vardaman
, m.
Thomas Jefferson "Jeff" Webb
; owned and operated several enterprises, including a lumber company and a mercantile; no children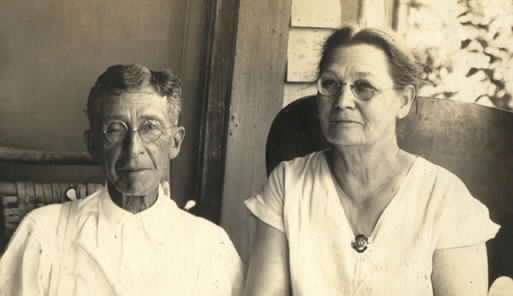 Uncle Jeff and Aunt Maggie Vardaman Webb
---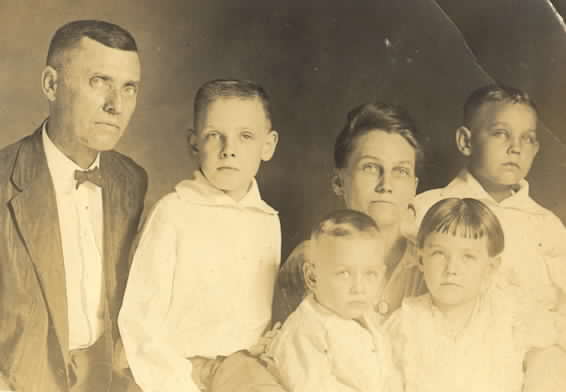 l-r:
Jim, James, Adrian, Ada, Julia, J.V.
27.01--James Basset Gwin II m. Evelyn Reese (adopted two ch.)

28.01
--
Betty Gwin
m.
James "Jimmy" Stewart
29.01--James Reese Stewart
29.02--William Mark Stewart
29.03--Martence Renae Stewart

28.01
--Juanita Kate Gwin
m1.
Christopher Lyn Englebracht, Sr.
29.01-
-

Christopher Lyn Englebracht, Jr.
m.
27.02-
-John Vardaman Gwin
m1.
Moselle Brantley
28.01
--
John Gwin
m.
Mildred Keron Maner
29.01--Bryan Vardaman Gwin
29.02
--Owen Gwin
29.03
--
(daughter)
Gwin
JVG m3.
Kathryn "Katie"
28.02
--
Sheila Adrian Gwin
28.03
--
Eileen Larkin Gwin
m.
Jay Austin
28.04--Daniel Vardaman Gwin m. Brenda Diane Thames
29.01--Jason Hughes Gwin
27.03-
-Julia Ida Gwin
m.
Walter Loo
28.01
--Walter Sai Pung Loo

29.01-- Loo
29.02-- Loo

28.02--Michael Kai On Loo
29.01
--Jeremiah "Jeremy" Scott Gwin
m.
Kara Marie Douglas
29.02
--Charity Elizabeth Gwin
m.
Beau Scott Pihlaja
30.01--
Asher Samuel Neeraj Pihlaja
30.02--
Daughterduedecember
Pihlaja
29.03
--Sarah Joy Gwin
m.
Jason Deane Johnson, Sr.
30.01--Jason Deane "J. D." Johnson, Jr.

30.02--Ryan Jonathan Johnson
30.03--Tate Austin Johnson
30.04--Zachary Jacob Johnson

28.02
--Patrick Forsythe Gwin
m.
Sheryl Ruffner
29.01--
Courtney Elaine Gwin
m.
Neil Schott
29.02--
Lauren Elissa Gwin
m.
Spurlock
---
---
Marshall E. Vardaman Addenda: (nothing yet--most is on his page)



---
John W. A. "Dubbie" Vardaman Addenda:

[
John M. Gwin Note:
In his pre-law days, Granduncle Dubby studied business handwriting at a school in Lexington, KY, if I understand the story correctly. His textbook was George A. Gaskell's classic, which book he brought back with him and kept until he died. His sister, my grandmother Adabelle, inherited it, and when she died, my father, Adrian S. Gwin, got it. When I was in college at Marshall University and showed interest in that handwriting style, he gave the book to me. And so Uncle Dubby's instructor, George Gaskell, years after the latter's untimely death in 1882 to alcohol overdose, became my mentor and teacher. As evidenced by his calling card (actual size about 2" x 3.5", enlarged here to show detail), Dubby learned much better than I did!]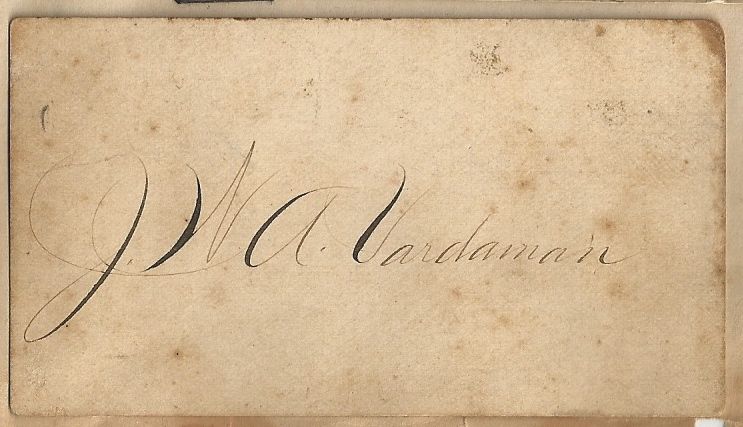 [
John M. Gwin Note:
Dubby took his younger sister, my grandmother Adabelle, to the 1895 World's Fair in Atlanta, and bought back at least these two souvenirs. My dad inherited them, and his typed note of explanation follows.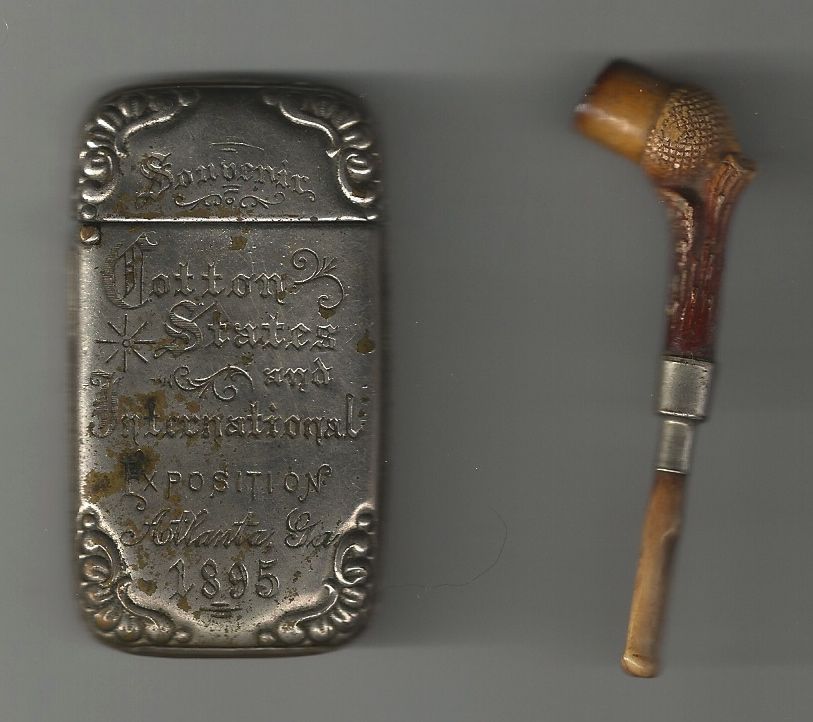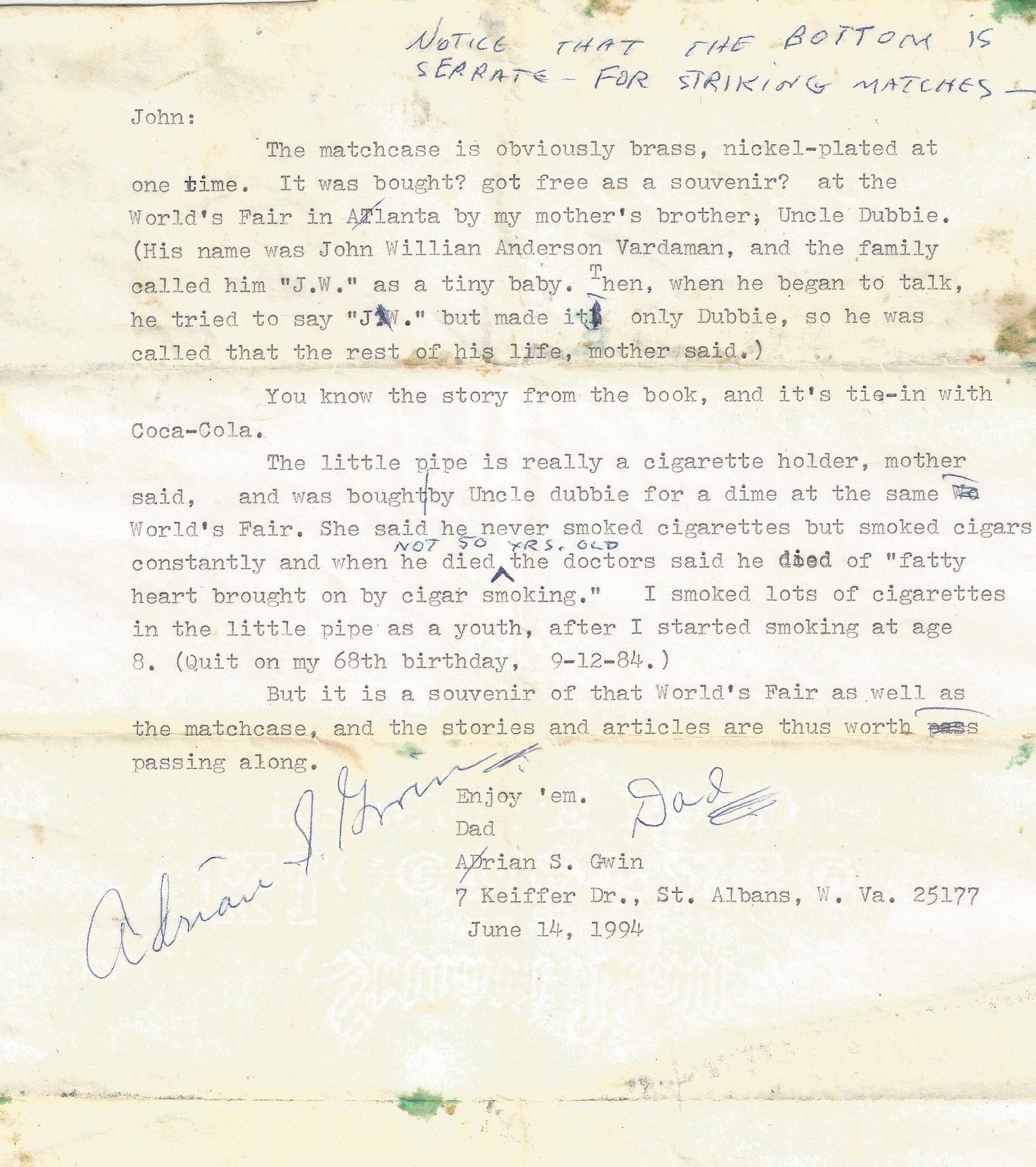 The LaFayette Sun

,

news article dated May 10, 1911:


John W. A. Vardaman, Probate Judge of Chambers County, died at his home here last Wednesday evening at 7:50 o'clock, after an illness of one week. Mr. Vardaman was born in Tallapoosa County, AL, October 19, 1868. He came to LaFayette in 1893 and entered LaFayette College, studying one year under Dr. McNeil. He then read law and shortly afterwards became Clerk of the Probate Court under the administration of Judge A. J. Driver, Jr. On January 29, 1910, he announced his candidacy for the office of Judge of Probate and was nominated by a handsome majority in the May primary, and elected without opposition in the general election in November. He assumed the duties of his office on January 16, 1911, and had served only three and one-half months of his six years' term.

As a man Judge Vardaman was held in the highest esteem. As an official he was fast taking positions as a just and upright Judge. As a friend he was true and loyal, a great hearted man whose sympathy and help went out to the poor and needy, the distressed and suffering. A man of lofty ideals, he was ambitious to meet all of life's obligations in the spirit of true manliness. His integrity was unimpeachable, his patriotism unquestioned. As a son and brother, no man could have been more devoted.

On last Thursday afternoon at 2 o'clock, a great congregation made up of his fellow citizens from every section of the county, assembled in the auditorium of the Baptist Church in this city to pay their last tribute of respect to his memory, and to give their silent, though eloquent sympathy to the bereaved family. The funeral sermon preached by Dr. W. C. Bledsoe was solemn and deeply impressive, and received the profound attention of the large assembly. The music rendered by a selected choir was beautiful and appropriate. It was a sad, sad occasion to our people.

The remains were carried to Goodwater Thursday afternoon and the internment made in the family burying ground near that place Friday morning. The services at the grave were in charge of the Masonic Fraternity of which the deceased was a faithful member. A number of Masons and other friends from this place accompanied the remains to the grave.

Mr. Vardaman leaves to mourn his sad death, his mother, two sisters and one brother, a number of relatives and a host of friends.




************************************************************





Resolutions


State of Alabama, Chambers County.
Whereas, God in His infinite wisdom and all wise providence on May 3rd, 1911, called from his labors with us our beloved co-worker and friend, Judge John W. A. Vardaman, and
Whereas, by this dispensation of God's providence we have each sustained a personal loss, a kind and gentle friend, a good and wise counselor, and
Whereas, the people of Chambers County have lost in his demise an ever sympathetic ear to every cause, a generous and impartial friend in all matters pertaining to their numerous interests, and

May 10, 1911 issue of "The LaFayette Sun":

Whereas, the people have lost in him a faithful and efficient official, an official whose very life was wrapped up in his work for his people;
Therefore be it resolved, that this Court bow in humble submission to the will of an all wise and just Father, who knoweth all things and doeth them according to his will.
2. Resolved further, that in the loss of our beloved Judge we each keenly feel the loss of a personal friend, the County a faithful and efficient official, who had before him at all times their every interest, the people an able impartial and upright Judge and a faithful and energetic executive.
3. Resolved further, that we extend to the grief stricken mother our heart-felt condolence and sympathy as a Court and individually, and assure them by these tokens, of our love and esteem for the departed brother and son, and may the Great Comforter shield and heal the broken hearted.
4. Resolved further, that a copy of these resolutions be sent the family, the original recorded in the minutes of the proceedings of this Court and a copy furnished the

LaFayette Sun

for publication.
Adopted this the 8th day of May, 1911.
J. H. Dunn, C. F. Bailey, R. J. Combs, J. H. Wallace



Burial: Smyrna Cemetery, Goodwater, Coosa Co., AL

---
Maggie Mae Vardaman Webb Addenda (nothing yet)



---
Adrian Belle "Adabelle" Vardaman Gwin Addenda (nothing yet--most is on her page)
---
An Interesting Genealogical Anecdote
The Old Wash Stand Story

---
Return to our Genealogy Home Page
Return to our Flynn Page Return to our Vardaman Page

---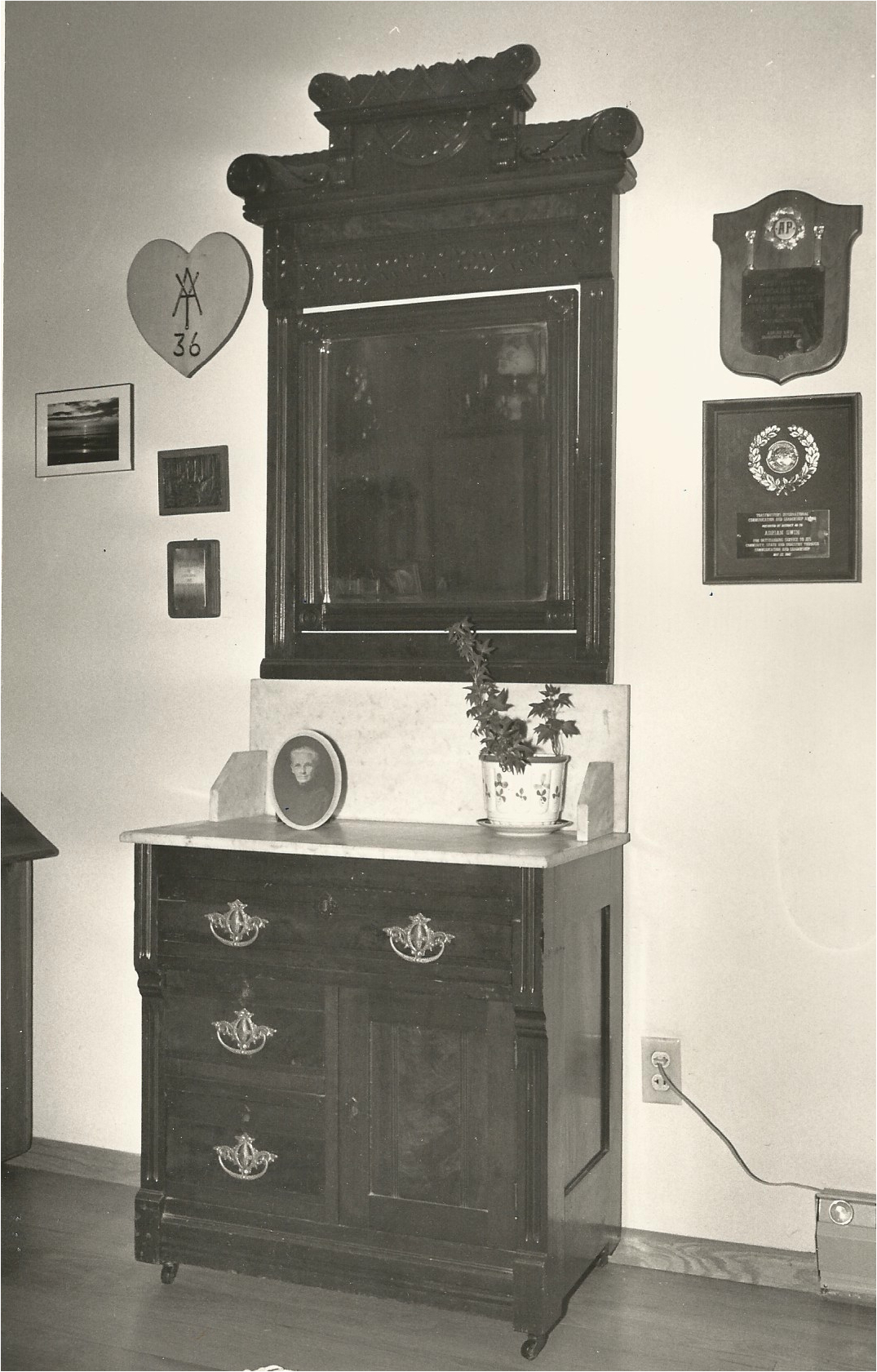 Photo by Adrian S. Gwin--it accompanied
the column he wrote and published in the
Charleston Daily Mail

Following is Dad's column from the Charleston, West Virginia,


Charleston Daily Mail

, Wednesday edition, March 14, 1984, page 12A:


Looking Back
Grandma Couldn't Do Without Marble-Top Washstand



by Adrian Gwin
of the Daily Mail staff


Yesterday's simple necessity is today's antique luxury.
The old marble-topped washstand in our living room was one of Grandma's most useful pieces of furniture.
In her day, and even when I was a boy, she used it regularly for taking her twice-weekly bath.
It's well over 100 years old now, solid walnut wood, tall and graceful, with a carved gingerbread beadboard above, and old brass handles below.
Grandma and Grandpa [John Gwin note: i.e., John Forsythe Vardaman and Julia Ann Flynn Vardaman] got it about 1870 or '75 as part of a three-piece set of bedroom furniture.
While we of today often gripe of the inconveniences of modern bathrooms, consider what they did when the washstand was a way of life.
I remember that Grandma's bedroom door at Aunt Maggie's house was always closed on Tuesdays and Saturdays because Uncle Jeff made a fire in her bedroom then, winter and summer. Grandma's room had to be warm for her bath.
There was a bathroom in the house when I remember it, about 1922, added on the back porch long after the house was built in 1906, but Grandma wouldn't bathe in the claw-footed tub there. In her book, that wasn't the way you took a bath.
Sometime in the afternoon she'd take the china pitcher from the washbowl on the marble-top, and shuffle off to the kitchen where Aunt Maggie had a fire all day in the wood-burning stove.
She dipped near-boiling water from the reservoir on the stove, filled her pitcher, and carried it back to the bedroom. When I was very small, I'd be allowed to stay in her room until she was ready to begin the routine of her bath.
From her dresser she got clean underthings--a pair of cotton knit knee-length pants with a drawstring at the waist and tatted lace at the knees, and a top-piece that she called a blouse sometimes, but mostly it was called a "sack". There was a chemise and an underskirt. Then her clean dress. All these she laid out on the bed.
From the top drawer of the washstand came a cracked china saucer with a cake of Cashmere

Bouquet soap, and a cake of cooked-out sheep's tallow that she called mutton suet.
Next came out a clean washrag--she never called it a "wash cloth"; it was forever a washrag--and a clean towel. Then I was shooed out of the room so she could begin her bath.
I've learned long since that it was strictly a stand-up bath, for my mother often told us small children how* Grandma bathed at the old washstand.
I remember that as kids we'd bathe in the old tin tub before our fireplace. How could Grandma get into that little china basin to take an all-over bath, we wondered.
And I remember that after her bath, Grandmother always smelled faintly and deliciously of Cashmere Bouquet soap, because she could never rinse all of it off her at that old marble-topped washstand.
When she had toweled herself dry, Grandma always rubbed a little bit of mutton suet on her hands and massaged it all over her body. She didn't know it way back then, but today's body-beauty lotions make a big deal out of "lanolin"--the chief ingredient of sheep's tallow.
One day in 1931 Grandma went through the usual routine of her bath, and when she opened the blinds, the sun was shining, so she walked out on the porch and sat in the sun on the swing there. She had bathed at that washstand for about 60 years, and she was 91 years old.
Caught her death of cold. Died of pneumonia three days later.
The washstand stayed in her room at Aunt Maggie's house until about 1946 when my brother James got married. He and his wife Evelyn had a bathroom in their home, so the washstand graced their living room for nearly 40 years.
When James died on March 1, his daughter Juanita let me take the washstand apart and put it in the back of the station wagon where it rode home with me from Louisiana.
It's a tangible reminder of the Good Old Days that nobody wants to go back to, but everybody wants to remember.

*[John Gwin note: The summer of 1999 while we were visiting Mom and Dad in West Virginia, Dad told me the story again that his mother, my grandmother, had so often told him, of how his grandma took a bath--the part he had evidently decided not to include in the above 1984 rendition of the story:


"She'd strip to the waist and wash down as far as possible, then put her clean top-clothes on.
"Then she'd strip from the waist down and wash up as far as possible.
"And then she'd wash Possible!"


And so I've learned a new chapter to the old story and met two new cousins (and I'm sure more will follow), whom I believe to be direct descendants of the original owners of Grandma's and Grandpa's old washstand.

Dad died 7 May 2001, and my wife and daughter and I loaded up the washstand and brought it to New Mexico to be here where Mom is. And Juanita, if you're reading this, e.mail me so we can get this set of furniture back together! :-)


*Dad's story, "A Rose of Long Ago", is better than my abbreviated one. Read it in his book, Once Upon Ago from the Charleston Daily Mail's "Looking Back with Adrian Gwin", McClain Printing Co., St. Albans, WV, 1993; ISBN 0-87012-508-7; LOCCCN 93-91687. Or stick around awhile, and maybe I'll get it scanned here on the page!




I, John M. Gwin, have a tracing of the signature of my great-grandpa, "John F. Vardaman", taken from the floor of the top drawer of the old wash stand, above, at 7 Keiffer Drive, St. Albans, WV. I traced it there in June 1999, where the washstand had been given to my father, Adrian Sutton Gwin, who wrote a column about the furniture (below) published in the Charleston Daily Mail, the local newspaper for which he wrote for over fifty years.

On 20 Aug 1999, I received an exciting e.mail from someone who, from all indications, is my third cousin, Ms. Dona Lee Vaughn. She told me her paternal grandfather's mother, Mary Ann Flynn, is the sister of my paternal grandmother's mother, Julia Ann Flynn. Dona's brother, Thomas Lee and also a third cousin, also wrote, verifying Dona's letter. Earlier, it seems, both of them had read a post I had left at the Flynn Family Genealogical Forum stating my connection to the Flynn family and listing the several details my uncle, James B. Gwin II, had included in his collection. One of those details had been that Julia Ann Flynn, my great-grandmother, had a younger sister, Mary Ann Flynn,who had married a John A. Lee in 1861.

Alright. It turns out that Mary Ann's and Julia's respective husbands, John A. Lee and the aforementioned John Forsythe Vardaman, had served in the Civil War from Alabama. John Lee had already married Mary Ann in 1861, but John Vardaman waited to marry Julia until after the war. I had heard the story often from my dad, who'd heard it from his mother and grandmother, of how his grandfather, John Vardaman, had been at Appomattox with Gen. Robert E. Lee at the surrender, serving as one of many scribes writing individual orders for safe passage for each Southern soldier to return to their homes and had walked--WALKED--back home to Alabama.

An interesting aside here: While stopped to rest at a farm house somewhere in Tennessee, I believe the story goes, he admired a rose bush in the front yard and asked for a rooting to take to his sweetheart. Wrapped in a piece of burlap in his backpack and kept watered during the trek, the moss rose was planted in what would become their front yard in Alabama, where it thrived. Years and another rooting later, my dad took yet a third rooting of it from Aunt Maggie's house to his--our--home in West Virgina, where he planted it in our front yard. When we moved across town, he moved it, too, and today, the Civil War Rose lives on.*

Back to the story: In Alabama, he married his sweetheart, built his house, bought some bedroom furniture from a neighbor couple who were moving from there to Texas (the same bedroom suite, of course, with the wash stand which stayed in my parents' living room until Dad's death in 2001 and which now stands in our dining room in Las Cruces, NM, still waiting for Juanita) farmed the land, raised four kids, and served as Superintendent of Coosa County Schools.

But today the story gets better. Dona Vaughn, this new-found third cousin, tells me that John A. Lee was also at Appomattox for the surrender--they even have his "safe conduct" paper from Appomattox--and that he and Mary Ann had moved to Texas in 1871 from Coosa County. It's at this point that several pieces to the puzzle may fall together.

When John Lee married Mary Ann Flynn in 1861, John Vardaman already knew and was courting Julia Ann Flynn. But the war interrupted things, and both Johns enlisted in the CSA from Coosa County, Alabama, (we know John Vardaman enlisted in 1861 and John Lee in 1862, each in a different unit) and served for the duration, somehow ending up together at the surrender on April 9, 1865. And so I submit the following as an interesting and plausible theory:

I'm betting they walked home together, and that being with John Lee during the walk home may even have somehow influenced and reinforced John Vardaman's intent to marry Lee's sister-in-law, Julia, that December of 1865. The two couples were country neighbors for five or six years, and when the Lees moved to Wood Co., Texas, in 1871, it was their furniture that the Vardamans bought.

What do you think? Dona? Tom? Others?

John,
I'm certain your Plausible Theory is right. I'm sure Tom remembers, as I do, our being told as children that our great-grandfather John walked all the way home from Appomattox. I remember hearing that when he got home, so filthy and covered with lice, that he wouldn't let anyone near him until he had bathed, and that his old clothes were burned.

Dona
Dona Vaughn
Uncle James Bassett Gwin, Jr.'s, daughter, Cousin Juanita K. Gwin Russell, and her husband Scott, came to our home in Las Cruces, NM, in September 2012, and picked up the old washstand to take it with them back to Louisiana to be reunited with its other two members of the original bedroom suite--the dresser and bed. We had a wonderful (though all-too-short!) visit, and sent the old piece back home with mixed emotions. After all, it had been in Dad's and Mom's--and then our--possession for nearly thirty years! But it will be good knowing that all three pieces are back together again, and we look forward to seeing them when next we visit Scott and Juanita.

Below is a copy of the note Dad typed back in 1984 just after he and Mom returned from James' funeral with the washstand to West Virginia. Dad had taped it in a plastic cover on the inside of the door to the washstand's cabinet, and I took it out and scanned it yesterday when I disassembled the washstand for its trip home to Juanita's.