.
McDonald Keeney
and
Mamie Chloe Stanley
.
---
---
---
The updating of the numbering system used on this page has been completed. Generation 28 is my own;
27 is that of my parents; 29 is that of my children, etc.
-- John M. Gwin, Jun 2011



The reformatting of the name font and census data for this page has been completed.
--John M. Gwin, Aug 2011
---

Most of the material on these Keeney pages is taken directly from the excellent work of
Roscoe C. Keeney
in his 2,597 Keeney Relatives and its related after-followings.
See also Dan Keeney's excellent site,

KeeneyKlan.com

, and especially his coverage of Roscoe's work at
http://www.keeneyklan.com/Roscoe/Roscoe.htm


---
17.00--Sir Thomas Keney (sic), b. 1578, Norfolk, England; d. in New London, CT;
18.00--John Keeney, b. 1600, Norfolk, England; d. 1622 Salem, MA; m. Sarah Cheever (1621-1674)
19.00--Henry Keeney, b. 8 Jul 1623 in England; d. 6 Jun 1710; m. Ann Putnam;
20.00--John Keeney, b. ca.1651-2; d. 1718 Lynn, MA; m. Elizabeth Locke;
21.00--John Keeney, b. 15 Aug 1689, New London, CT; d. unk.; m. Mary Smith;
22.00--David Keeney; m. Martha (nee unk.) (b. 12 Mar 1714; moved to Greenbrier Co., VA, in 1756;
23.00--Moses Keeney, b. 1766 in Greenbrier Co., WV; d. about 1840 in Kanawha Co.; m. 11 Aug 1789 in Greenbrier Co. to Frances Harris; 10 children

---
24.09--
Stires Jade Keeney
, b. 1813 in Greenbrier Co.; moved to Cabin Creek, Kanawha Co., as a boy with his father, Moses; d. in 1876 at age 63; m1.
Amelia P. (Milly) Gatewood
(25 Jan 1813-10 Jul 1860),
11 children
; m2.
Cynthia Hudnall White
(b. 1818), d. after 1880 census; no ch. by SJK;
25.09--
John Stires "John S." Keeney
, b. 9 May 1849 at Fairview, WV, on Cabin Creek; d. 22 Dec 1932 at Witcher, WV; m. 16 Nov 1871 to
Hannah Catherine Frazee
(b. 6 Aug 1853, in Greenup Co., KY; d. 1944);
13 children; 71 grandchildren!


[
John M. Gwin Note:
Cousin Roscoe told me that everyone was pretty sure the S. stood for Stires, but no one had any evidence--until now. Their marriage certificate clearly has both their middle names, and his is Stires, without question.]
26.01--Daisy May Keeney----(1872-1874)--age 1.5--0 ch.

26.02--Urias Zara "Urie" Keeney----------(1874-1928)--age 54--3 ch.
26.03--McDonald "Mack" Keeney------(1877-1938)--age 60--7 ch.
26.04--Nick Burks Keeney------------(1878-1951)--age 73--11 ch.
26.05--Flem Davis Keeney-----------(1879-1965)--age 86--7 ch.
26.06--Roscoe Conkling Keeney, Sr.-(1882-1969)--age 87--8 ch.
26.07--Daniel Webster "Dan" Keeney-----(1884-1973)--age 88--5 ch.
26.08--John S. "Johnny" Keeney, Jr.--(1886-1961)--age 75--5 ch.
26.09--Walter Henson Keeney, Sr.----(1888-1957)--age 68--7 ch.
26.10--Hannah Catherine "Katie" Keeney------(1890-1962)--age 72--8 ch.
26.11--Frances Holt "Fanny" Keeney------(1892-1963)--age 71--6 ch.
26.12--Ebon Oakes Keeney--------(1894-1976)--age 82--0 ch.
26.13--Robert H. "Bob" Keeney---------(1896-1982)--age 86--4 ch.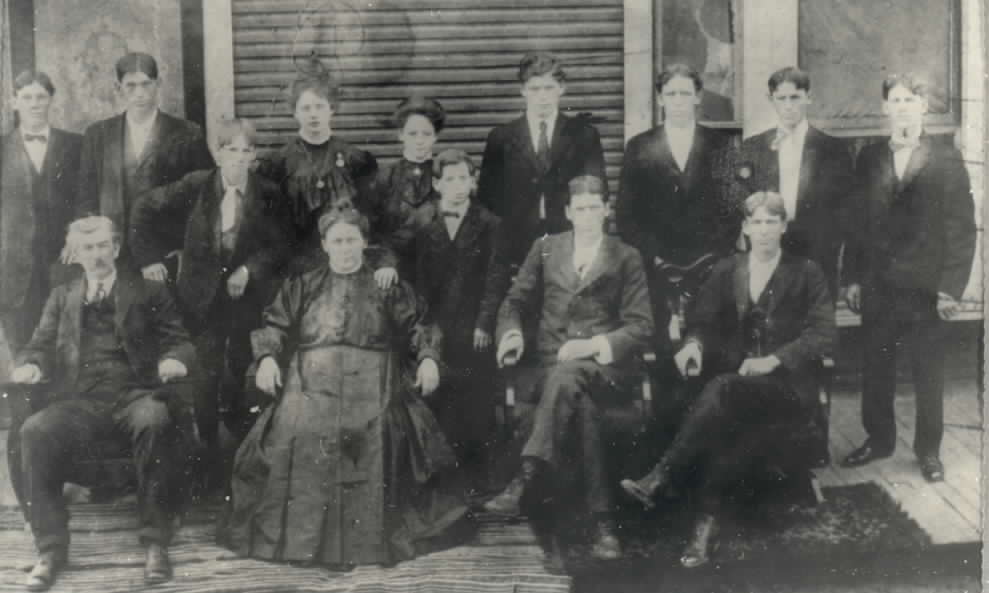 John Stires Keeney Family of Witcher, WV, ca. 1906.
Front, seated, l-r: John S., Catherine, Uri, Mack;
standing, l-r: Flem, Nick, Ebon, Katie, Fannie, Bob, Dan, Roscoe, Walter, and Johnny;
absent; Daisy (firstborn, 1872; d. 1874).
---
26.03--

McDonald Keeney

, b. 28 July 1877 (but his stone says 1876); d. 16 May 1938 at Witcher, WV; bd. beside Mamie in Witcher Cem., Witcher, Kanawha Co., WV; carpenter, contractor, homebuilder, husband, father ("Daddy Mack"); m. 11 Nov 1911 to

Mamie Chloe Stanley

; (b. 8 Sept 1879 in Nicholas Co., WV (everyone thought she was born in 1882; indeed, even her tombstone records the error based on her own testimony; however, the census of Spring of 1880 records her age as 7/12!); d/o

George Washington Stanley

and

Fannie Young Stanley

; d. 30 Oct 1957 at Witcher;)

7 children; 22 grandchildren

;



27.01--

Maxine Stanley Keeney

, b. 30 Nov 1912; Maxine retired in 1978 as teacher in Greenbrier Co. Schools, Lewisburg, WV; d. ______; m. 18 Mar 1933 to

Norman Holt Harless

(b. 26 Nov 1911; d. 9 Nov 1975; s/o

Joseph Tilden Harless

and

Mary Ellen Bailey

of Cyclone, Wyoming Co., WV); Norman served as pastor of American Baptist churches in Landville, Mabscott, and Lewisburg, WV.;

7 children

27.02--Hannah Margaret Keeney, b. 16 Jan 1914; never married; lived at Witcher, WV, at the family home; retired Kanawha Co. Public Schools teacher; d. on George W. Bush's inauguration day, Jan 2001

27.03--

Dorothy Lee Keeney

, b. 10 Feb 1915; d. 31 May 2005; m. on 11 Aug 1942 to

Adrian Sutton Gwin

(b. 12 Sep 1916 at Selma, AL; d. 7 May 2001 at Memorial Medical Center, Las Cruces, NM, after a five-month bout with blood-clotting disease) at New Orleans when she was a summer boarder at the Gwin home; retired from teaching with Kanawha County Schools; lived in St. Albans, WV from WW2 to Nov 1999; resided in Las Cruces, NM, near son John, until her death;

2 children

;

an Adrian-and-Dot album

;

27.04--Mildred Agnes Keeney, b. 8 Aug 1916 at Charleston; taught school in Manassas, Virginia, after a long career in Girl Scout and Conservation leadership, a prize-winning journalism program at DuPont High, and teaching biology and mathematics in high school, at West Virginia Tech, in New York, and in the continuing education program of West Virginia University; lived with her sister Hannah at the family homeplace in Witcher, WV, for many years, serving as Hannah's caregiver most of Hannah's last years; never married.

27.05--

Albert McDonald ("Buster") Keeney

, b. 3 Jun 1918; d. 8 Feb 2010 in Charleston, WV; m1.

Geraldine Kincaid

of Witcher in Sep 1938--marriage dissolved after Bus returned from WW2--no children; m2. 19 Jan 1947 to

Phyllis Eileen Caldwell

(b. 20 Apr 1922) of Bomont (Clay Co.);

3 children

; div.; m3. 19 Jun 1970 to

Juanita Marshall Lewis

(b. 28 Jul 1924);

27.06--

Helen Pauline ("Bennie") Keeney

, b. 9 Nov 1920; d. Nov 1999 in Waldorf, Maryland; bd. in Witcher Cemetery, Witcher, WV, next to daughter Jane Lynn Metheny; m. 10 Nov 1941 to

James Thomas (Tom) Metheny, Sr.

(b. 19 Jan 1916; d. Nov 1999);

5 children





Helen Keeney Metheny

WALDORF, Md. - Helen Keeney "Bennie" Metheny, 78, of Waldorf, formerly of Witcher, W.Va., died Nov. 5, 1999, at the home of her daughter, Judith Karen Lindley of Waldorf, after a short illness.

She was a retired secretary from National Education Association, Washington, D.C., and International Council for Health, Physical Education and Recreation, Washington, D.C.

Also surviving: husband, James Thomas Metheny Sr. of Dumfries, Va.; daughters, Joan Elizabeth Bousher of LaPlata, Md., Jennifer Gail Tolbert of Dumfries; son, James Thomas Jr. of Witcher; sisters, Dorothy Lee Gwin of St. Albans, W.Va., Mildred A. Keeney and Hannah M. Keeney, both of Witcher; brothers, George McClure Keeney of Hurricane, W.Va., Albert "Buster" Keeney of Belle, W.Va.; nine grandchildren; four great-grandchildren.

Service will be 11 a.m. Wednesday at Fidler & Frame Funeral Home, Belle, with the Rev. Roscoe Keeney officiating. Burial will be in Witcher Cemetery. Friends may call from 3 to 5 p.m. and from 7 to 9 p.m. Tuesday at the funeral home.

27.07--

George McClure Keeney

, b. 18 Aug 1922; d. 25 Aug 2007; m. 24 Dec 1954 to

Frankie Shirley Lucas

(b. 21 May 1936);

5 children





George M. Keeney

George M. Keeney, 85, of Hurricane passed away Saturday, Aug. 25, 2007, at Hubbard Hospice House, Charleston.

George retired from FMC, South Charleston, with 30 years of service. He was a former employee of West Virginia Water Company, Charleston, a graduate of Dupont High School, Belle, attended Morris Harvey College, Charleston, and was a U.S. Army veteran of World War II.

Surviving are his loving wife, Frankie Keeney of Hurricane; daughter, Lynn Bright of Milton; sons and daughters-in-law, Chuck and Patti Keeney, Kent and Lori Keeney, Danny Keeney and Chris and Hilarie Keeney, all of Hurricane; sister, Mildred Keeney of Belle; sister-in-law, Ruby Snead of Rand; brother, Albert M. Keeney of Belle; and brother-in-law, Roy Lucas of Witcher. Also surviving are his loving grandchildren, Erin, Nikki, Makinzie, Ryan, Sean and Brendan Keeney; great-grandson, Ian Keeney; and several nieces and nephews.

The family would like to give special thanks to Dr. Samuel Henson, special friend, Joe Bentley Sr., friends and neighbors, and the wonderful, loving people at Hubbard Hospice House.

Ceremonies will be private.

In lieu of flowers, donations may be given in his honor to Hubbard Hospice House, 1001 Kennawa Drive, Charleston, WV 25311. Online condolences may be made at www.chapmanfuneralhomes.com.

Chapman Funeral Home, 3941 Teays Valley Road, Hurricane, is serving the family.




---
Mamie's unmarried oldest sister,

"Aunt Maude" Stanley

,

lived at the old Stanley family homeplace at Tad, and loved hosting overnight parties, day picnics, and other fun events for her nieces. No doubt that this photo was taken by Aunt Maude when the girls had been taken there for one of these visits in June of 1920. I can just imagine Aunt Maude, herself a school teacher, gathering the nieces and a couple of neighbor girls around her dining room table with flour sacks, ribbons, scraps of cloth, scissors, and glue to make their own hats

Below: Photo taken June 1920; the four oldest children (l-r: Hannah, Dorothy Lee, Maxine, and Milly) with friends "Bulah Lucas" and "Philis Cline" on a "picnic" in front of the post office at Tad, WV, (sign says "Robert L. Dunlap, Postmaster"). Someone has written on back (in June 2005, Milly told me it was in "Aunt Maude's handwriting" and that Aunt Maude couldn't spell very well and always spelled and pronounced DOR-o-thy as DOR-thy):

Stamped on the back in purple Old English text is,
"Kiser Studio, Monticello, Indiana. Mail Orders Solicited."

June 1920.

Maxine Keeney
Hannah "
Dorthy L "
Mildred "
Bulah Lucas.
Philis Cline.
Picnic


---




A larger version of this photo is at the bottom of this page.

---
The McDonald Keeney family of Dickenson, WV, 1933
l-r, front row: George, age 11; Mack, 56; Mamie, 54; Bennie, 13;
back row: Maxine, 21; Hannah, 19; Dot, 18; Milly, 16; Buster, 15.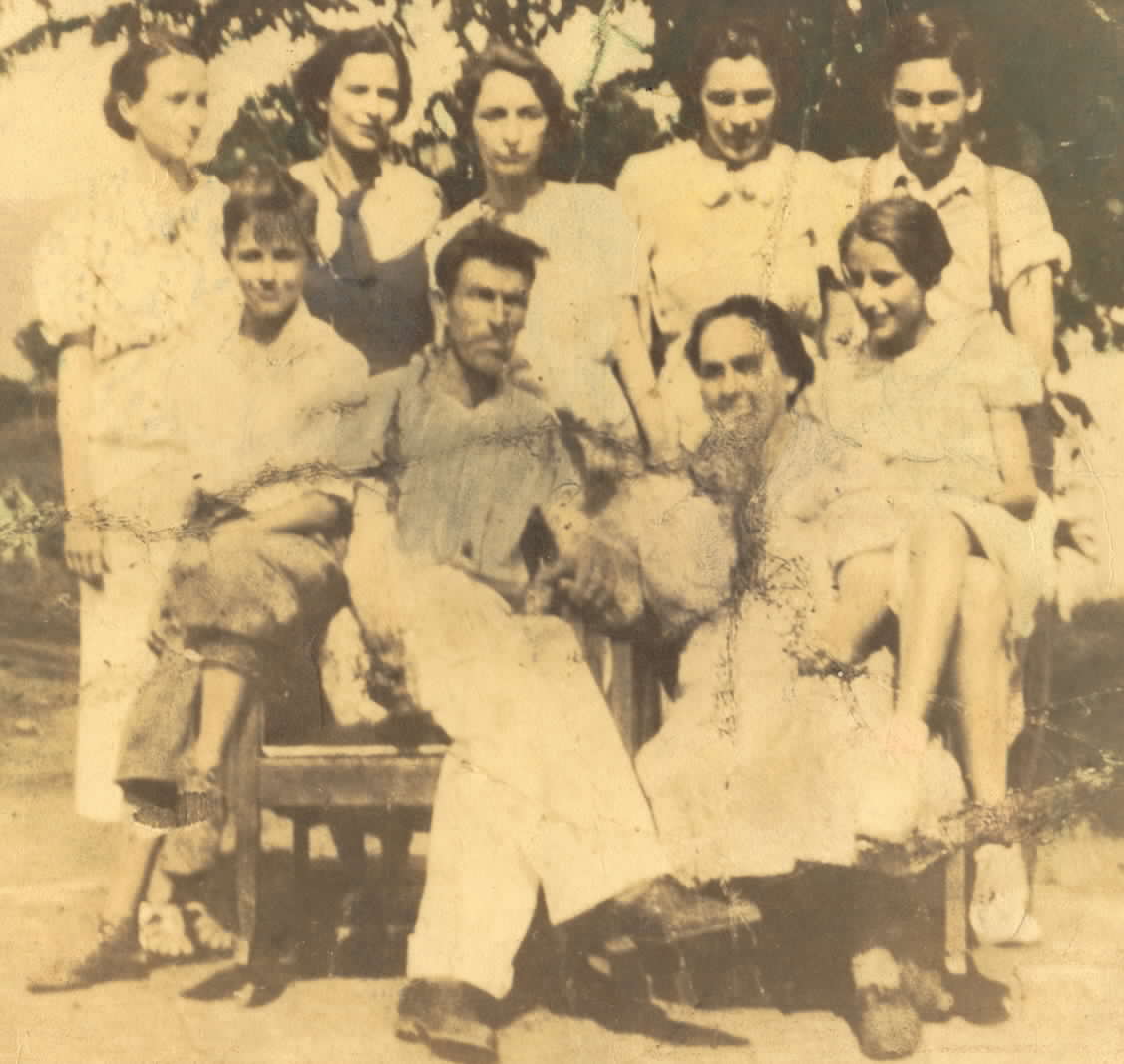 ---
My mother, Dot, often told me growing up that her family was "a baseball team, perhaps only because there were nine of them, perhaps because they really did play baseball together. Their positions listed here are from my own imagination. Below, L-R, Back Row: Bus, 3rd base; George, 1st base; Milly, left field; Middle Row: Maxine, shortstop; Hannah, 2nd base; Dot, center field; Front: Bennie, right field. Absent when picture was taken, having moved up to the Majors and currently playing with the East Gate Angels: Mack and Mamie, catcher and pitcher, respectively. Now Maxine (1992), Hannah (2000), Bennie (2001), Dot (2005), George (2007), Buster (2009), and Milly (2011) have also received their upward calls and joined their parents.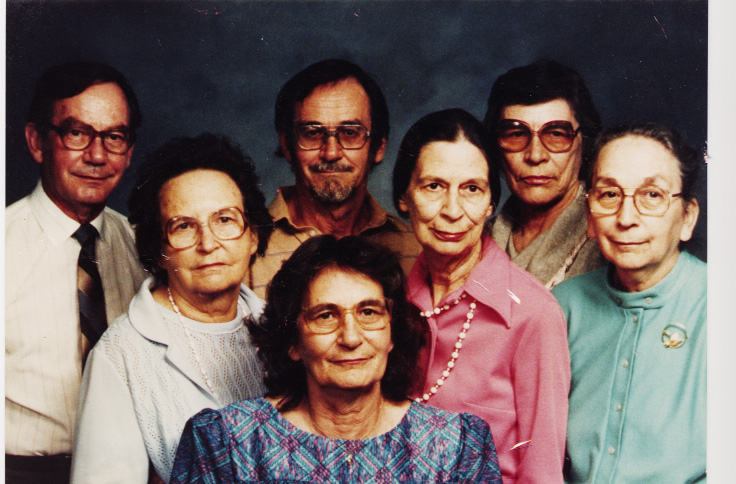 ---
Some Other Interesting Mementoes
---
This is a poem published in

THE REUNION

, a newspaper-like document for what may have been Mac Keeney's high school class reunion.

It's undated, but references to "the panic" (the Great Depression) pretty much pin it down to the early 1930s.

I found it in the attic of Milly's house--the old homeplace of her parents, Mac and Mamie Keeney--

when I stayed there in June of 2005 visiting my brother Pat after Mother died.

John M. Gwin




Keeney's Crew


BY SILAS M. ROLLINS


I used to labor around the mines,

When men could make the dough,

Until the panic struck us all,

Which changed the times you know.

The panic's on throughout the State;

There's nothing much to do,

So I became an ornery cuss

And joined

Mac Keeney

's crew.

Now Mac, he owns a circle saw

And employs men by the day,

Where people have to work like slaves

Who are fools enough to stay.

Old Mac is full of business sense

And right good looking, too,

And though he falls in his timber deal,

His face will take him through.

His brother

Dan

is saw mill boss;

He keeps things from going wrong

And labors like the rest of us

To help old Mac along.

He don't forget to watch around

And put us folks through,

Which often makes us "peter out,"

To work in

Keeney's crew

.




The engineer is

Wilson Moore

,

He labors with a will;

He feeds the furnace wood and coal

Which runs Mac Keeney's mill.

He used to be a wrestling chap,

Or at least, he tells us so,

But when he tried

Tom Grafton

once,

It proved his overthrow.

Tom Grafton

measures lumber here;

He is very large and tall

And the hunting trips he took out west

He likes to tell to all.

He appears to be a city dude,

And is quite a talker, too,

And if lumber works were run with gas,

He'd beat all in

Keeney's crew

.

Jake Darby

works at

Keeney's mill

;

His equal's hard to find;

In fact, old Jacob's face will show

He's not of the human kind.

It takes all sorts to make a world

I have often heard it said;

That's why they spoiled a kangaroo

And made old Jake instead.




We'll mention

Staunton Thomas

next,

Who is cute as he can be,

And his merry ways would make you think

That he was on a spree.

He sees the sunny side of life,

And is never feeling blue,

Which can't be said of everyone

That works in

Keeney's crew

.

Jim Beasley

and

Foster Lytton'

s next;

Their job is quite a pill.

They're the only ones to truck the logs

That's sawed at

Keeney's mill.

Old Jim's a right good looking chap,

Though he's not a ladies' man,

While Foster's looks will show he's not

Made after Adam's plan.

Young Anderson

runs the lumber truck

But still he doesn't despond,

For he is quite a merry chap

And courts the

widow Bond

.

Now, let us drink to the future bright

Of our friend and the widow, too,

And that their boys may never work

In a gang like

Keeney's crew

.
---
Some Pertinent Census Data

---
From the 15 Apr 1900 census of Malden Magisterial Dist., Kanawha Co., WV

Street/
Res/Fam

Name

Relat
2HoH

Race/
Sex

Age


Est.




YOB



MS/
YrsMd/
ch/lvg

POB
S/F/M

Occupation

Other

John M. Gwin Comments



































































































































































































































































































































































































































































































































































































































































































































From the 15 Apr 1910 census of Malden Magisterial Dist., Kanawha Co., WV

Street/
Res/Fam

Name

Relat
2HoH

Race/
Sex

Age


Est.




YOB



MS/
YrsMd/
ch/lvg

POB
S/F/M

Occupation

Other

John M. Gwin Comments

---/---/5

Roscoe Keeney

head

wm

28

1882

m/5

WV/WV/WV
carpenter



This is my granduncle Roscoe Conkling Keeney, son of John Stires Keeney and Hannah Catherine Frazee and brother of my grandfather, McDonald Keeney. He will become the father of Roscoe Conkling Keeney, Jr., the grand old genealogist of the Keeney clan, still living in Charleston as of this writing (14 Nov 2009).



Margurette Keeney
wife

wf

23

1887

m/5/1/1

WV/WV/WV
none



This is Maggie Paxton. Until seeing this census, I'd never heard her called anything but Maggie.



Julia Keeney
daughter

wf

2

1908

s

WV/WV/WV
none





---/---/10

John Keeney
head

wm

58

1852

m/38

WV/WV/WV
contractor



John S. Keeney



Hanna Keeney
wife

wf

54

1856

m/38/13/12

WV/WV/WV
none


Hannah Catherine Keeney


Nick Keeney
son

wm

30

1880

wd

WV/WV/WV
none


4th-born Nick Burks Keeney



Johnnie Keeney
son

wm

24

1886

s

WV/WV/WV
none


7th-born John S. Keeney, Jr.



Walter Keeney
son

wm

22

1888

s

WV/WV/WV
none


8th-born Walter Henson Keeney, Sr.



Hanna Keeney
daughter

wf

18

1892

s

WV/WV/WV
none


9th-born Hannah Catherine "Katie" Keeney who will marry Johnny Fout (see my speculation 11 lines below)



Fannie Keeney
daughter

wf

16

1894

s

WV/WV/WV
none


10th-born Frances Holt Keeney



Eben Keeney
son

wm

14

1896

s

WV/WV/WV
none


11th-born Ebon Oakes Keeney



Robert Keeney
son

wm

12

1898

s

WV/WV/WV
none


This is my granduncle Robert Keeney, "Uncle Bob", as I knew him. He and his two sons, Tommy and Bobby, built our house at 7 Keiffer Drive in St. Albans. I got to watch and help them build it the winter of 1960-61. My mother, Uncle Bob's niece, designed the house, and they built it from her drawings--without an architect's blueprints.

---/---/11
Traber Keeney


wm

36

1874

m/14

WV/WV/WV
contractor



Traber Gatewood Keeney, Baptist Deacon



Cloie Keeney


wf

34

1876

m/14/5/5

WV/WV/WV
none


Chloe



Annie Keeney


wf

13

1897

s

WV/WV/WV
none


Eliza Ann



Lonnie Keeney


wm

12

1898

s

WV/WV/WV
none


Lonnie Gatewood



Fredie Keeney
son

wm

9

1901

s

WV/WV/WV
none



Charles Frederick



Juliet Keeney
daughter

wf

7

1903

s

WV/WV/WV
none



Juliette Madison



Elizabeth Keeney
daughter

wf

3

1907

s

WV/WV/WV
none



Elizabeth Rose.
Son (and youngest child) Cameron Hubbard will not be born until July 28, 1910, some three months after this census.

---/---/33

John Fout

head

wm

54

1856

m/31

VA/VA/VA

carpenter, Gov. Locks



I can't imagine this being anyone else but the father of the John Anderson"Johnny" Fout who married our Hannah Catherine "Katie" Keeney (9th-born child of John S. and Hannaah Catherine Frazee Keeney, 11 lines above).



Sallie

wife

wf

53

1857

m/31/4/4

WV/WV/WV
none






Annie

daughter

wf

30

1880

m1

WV/VA/WV
none




---/---/35
U. B.

head

wm

38

1872

m/14

WV/WV/WV
work out farmer




Who is this person?

His family is living in Malden only 25 houses away from our John S. Keeney, yet Roscoe has absolutley no mention of U. B. or anyone in his family in his book,

2597 Keeney Relatives

(Roscoe C. Keeney, Jr., McClain Printing, Parsons, WV, 1978).



Margurette

wife

wf

32

1878

m/14/8/8

WV/WV/WV
none






Ethel

daughter

wf

13

1897

s

WV/WV/WV
none






Virginia

daughter

wf

11

1899

s

WV/WV/WV
none






Ben

son

wm

9

1901

s

WV/WV/WV
none






David

son

wm

8

1902

s

WV/WV/WV
none






U. B., Jr.

son

wm

5

1905

s

WV/WV/WV
none






Margurette

daughter

wf

4

1906

s

WV/WV/WV
none






Frank

son

wm

3

1907

s

WV/WV/WV
none






Leslie

son

wm

1

1909

s

WV/WV/WV
none






From the 17 Jan 1920 census of Charleston, Kanawha Co., WV

Street/
Res/Fam

Name

Relat
2HoH

Race/
Sex

Age


Est.




YOB



Marr
Stat

POB
S/F/M

Occ

Other

John M. Gwin Comments

1702/12/33

McDonald Keeney

head

wm

42

1878

m

WV/WV/KY
building contractor







Mamie Keeney
wife

wf

37

1883

m

WV/WV/WV








Maxine S. Keeney
daughter

wf

7

1913

s

WV/WV/WV








Hannah M. Keeney
daughter
wf

5

1915

s

WV/WV/WV








Dorthy L. Keeney
daughter
wf

4yr11mo

Feb 1915

s

WV/WV/WV




This is my mother, Dorothy Lee Keeney, who will marry Adrian Sutton Gwin on 11 Aug 1942, 22 years from this census.



Mildred A. Keeney
daughter
wf

3yr5mo

Aug 1916

s

WV/WV/WV








Alfred Mc. Keeney
son

wm

1yr7mo

Jun 1918

s

WV/WV/WV







From the 5 Apr 1930 census of Charleston, Kanawha Co., WV

Street/
Res/Fam

Name

Relat
2HoH

Race/
Sex

Age


Est.




YOB



MS/Age
1stMd

POB
S/F/M

Occ

Other

John M. Gwin Comments

709 Greenbrier
St./144/176

McDonald Keeney

head

wm

53

1877

m/35

WV/WV/KY

mechanical engineer in the building industry



This is my grandfather, McDonald Keeney, for whom I was named.



Mamie C. Keeney
wife

wf

48

1882

m/38

WV/WV/WV
none



This is my grandmother, Mamie Chloe Stanley Keeney. She is not the age she reports here, since she was age 2 in the 1880 census.



Mayaie S. Keeney
daughter

wf

17

1913

s

WV/WV/WV
none






Hannah M. Keeney
daughter
wf

16

1914

s

WV/WV/WV
none






Dorothy L. Keeney
daughter
wf

15

1915

s

WV/WV/WV
none






Mildred A. Keeney
daughter
wf

13

1917

s

WV/WV/WV
none






McDonald Jr. Keeney
son

wm

11

1919

s

WV/WV/WV
none






Helen P. Keeney
daughter
wf

9

1921

s

WV/WV/WV
none






George M. Keeney
son

wm

7

1923

s

WV/WV/WV
none




621 Greenbrier
St./145/177
Thomas Grafton

head

wm

52

1878

m/25

WV/England/England
miner, coal mine







Mabel Grafton
wife

wf

52

1878

m/25

WV/WV/WV
none


She is my grandaunt, Mabel Stanley, older sister of my grandmother (see 9 lines above).



Elizabeth Grafton
daughter

wf

18

1912

s

WV/WV/WV
Investment Co. stenographer







George E. Grafton
son

wm

15

1915

s

WV/WV/WV
none






Mabel F. Grafton
daughter

wf

12

1918

s

WV/WV/WV
none






Thomas A. Grafton
son

wm

10

1920

s

WV/WV/WV
none