.
Hannah and Milly Keeney
.
---
Return to the Genealogy Home Page Return to the McDonald Keeney page
---
Most of the material on these Keeney pages
is taken directly from the excellent work of
Roscoe C. Keeney
in his 2,597 Keeney Relatives and its related after-followings.

---
---
The updating of the numbering system used on this page has been completed. Generation 28 is my own;
27 is that of my parents; 29 is that of my children, etc.
-- John M. Gwin, May 2009
The reformatting of the name font and census data for this page has
NOT
been completed.
--John M. Gwin, Aug 2011
---
[John M. Gwin Note: One of those above-mentioned related after-followings, a special issue of the Keeney Update, March 1987, includes a preface which numbers the generations beginning in America. The first ancestor mentioned in that preface is unnumbered, so I originally gave it a negative 1 numbering here. However, in early 2009, I renumbered all my pages, using my generation arbitrarily as number 28, my children's as 29, my parents' as 27, etc. Therefore, Sir Thomas Keney, below, who for years was numbered -1.00, is now generation 17.]

17.00--Sir Thomas Keney (sic), b. 1578, Norfolk, England; d. in New London, CT;
18.00--John Keeney, b. 1600, Norfolk, England; d. 1622 Salem, MA; m. Sarah Cheever (1621-1674)
19.00--Henry Keeney, b. 8 Jul 1623 in England; d. 6 Jun 1710; m. Ann Putnam;
20.00--John Keeney, b. ca.1651-2; d. 1718 Lynn, MA; m. Elizabeth Locke;
21.00--John Keeney, b. 15 Aug 1689, New London, CT; d. unk.; m. Mary Smith;
22.00--David Keeney; m. Martha (nee unk.) (b. 12 Mar 1714; moved to Greenbrier Co., VA, in 1756;
23.00--Moses Keeney, b. 1766 in Greenbrier Co., WV; d. about 1840 in Kanawha Co.; m. 11 Aug 1789 in Greenbrier Co. to Frances Harris; 10 children

---
24.09--
Stires Jade Keeney
, b. 1813 in Greenbrier Co.; moved to Cabin Creek, Kanawha Co., as a boy with his father, Moses; d. in 1876 at age 63; m1.
Amelia P. (Milly) Gatewood
(25 Jan 1813-10 Jul 1860),
11 children
; m2.
Cynthia Hudnall White
(b. 1818), d. after 1880 census; no ch. by SJK;
25.09--John S. Keeney, b. 9 May 1849 at Fairview, WV, on Cabin Creek; d. 22 Dec 1932 at Witcher, WV; m. 16 Nov 1871 to Hannah Catherine Frazee (b. 6 Aug 1853, in Greenup Co., KY; d. 1944); 13 children; grandchildren!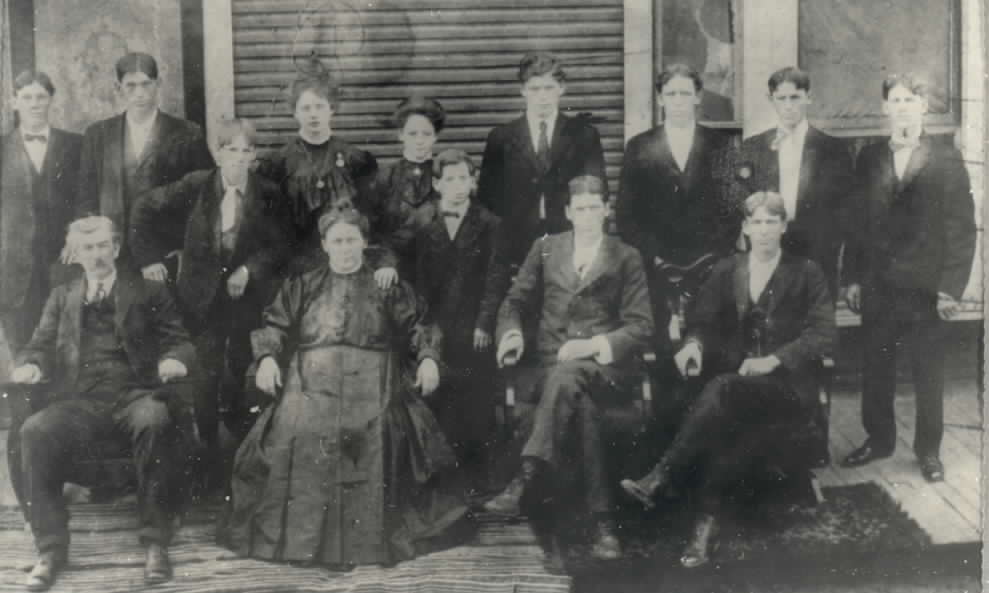 John S. Keeney Family of Witcher, WV, ca. 1906.
Front, seated, l-r: John S., Catherine, Uri, Mack; standing, l-r:
Flem, Nick, Ebon, Katie, Fannie, Bob, Dan, Roscoe, Walter,
and Johnny; absent; Daisy (firstborn, 1872; d. 1874).
26.01--
Daisy May Keeney
--------------------(1872-1874)--age 1.5--0 children
26.02--
Urias Zara "Urie" Keeney
----------(1874-1928)--age 54--3 children
26.03--
McDonald "Mack" Keeney
---------------(1877-1938)--age 60--7 children--b. 28 July 1877; d. 16 May 1938 at Witcher, WV; carpenter, contractor, homebuilder, husband, father ("Daddy Mack"); m.
Mamie Chloe Stanley
; (b. 8 Sept 1879--age 7 months in the 1880 Kanawha County census--in Nicholas Co., WV; d/o
George Washington Stanley
and
Fannie Young Stanley
; d. 30 Oct 1957 at Witcher;)
7 children; 22 grandchildren;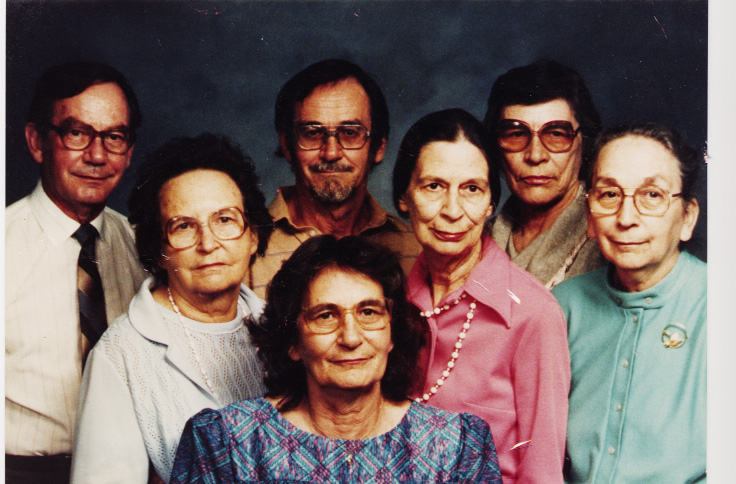 Mack and Mamie's seven kids: L-R, Back Row: Bus, 3rd base; George, 1st base; Milly, left field; Middle Row: Maxine, shortstop; Hannah, 2nd base; Dot, center field; Front: Bennie, right field. Absent when picture was taken, having moved up to the Majors and currently playing with the East Gate Angels: Mack and Mamie, catcher and pitcher, respectively. As of July 2009, Maxine, Hannah, Bennie, Buster, and George had also received their calls, leaving only Milly still here. She lived longest of all--95 years--joining the others 1 Sep 2011.

26.04--
Nick Burks Keeney
-----------------------------------------(1878-1951)--age 73--11 children
26.05--
Flem Davis Keeney---------------------------------------
(1879-1965)--age 86--7 children
26.06--
Roscoe Conkling Keeney, Sr.------------------------
(1882-1969)--age 87--8 children
26.07--
Daniel Webster "Dan" Keeney-----------------------
(1884-1973)--age 88--5 children
26.08--
John S. "Johnny" Keeney, Jr.----------------------------
(1886-1961)--age 75--5 children
26.09--
Walter Henson Keeney, Sr.----------------------------------
(1888-1957)--age 68--7 children
26.10-
-Hannah Catherine "Katie" Keeney--------------------
(1890-1962)--age 72--8 children
26.11--
Frances Holt "Fanny" Keeney------------------------------
(1892-1963)--age 71--6 children
26.12--
Ebon Oakes Keeney-------------------------------------------------
(1894-1976)--age 82--0 children
26.13--
Robert H. "Bob" Keeney-------------------- ------------
(1896-1982)--age 86--4 children
13 children
; family is pictured above about 1905
---
Meet Hannah and Milly!

---
Cousins, friends, family all:

I would like this page to become an album for Hannah and Milly. If you have photos of them that you can email me, I'll be glad to add them to the page. I'd especially like anecdotes, testimonies, stories from your own memories, items from their careers, etc.

Thanks for anything you can type up and send in.

Love to you all,

John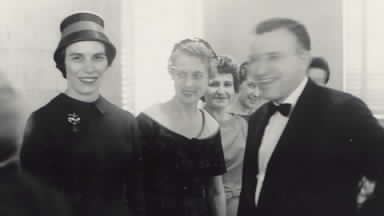 l-r: Milly, unk., Phyllis, unk., Roscoe, unk.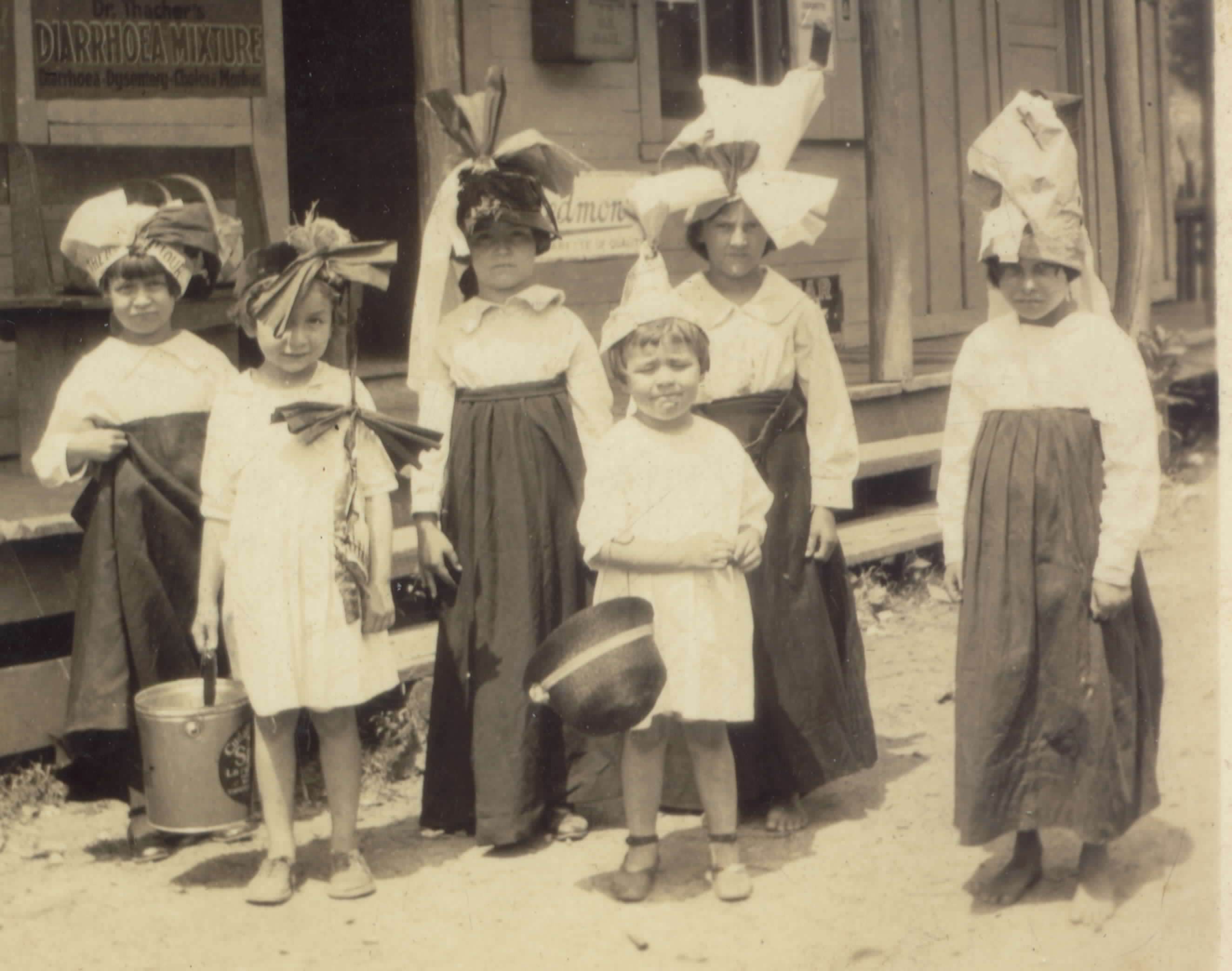 The summer of 1920, the four oldest were visiting Aunt Maude out at Tad, and she took their picture with the two Lucas girls dressed up for a picnic in front of the old Tad Post Office.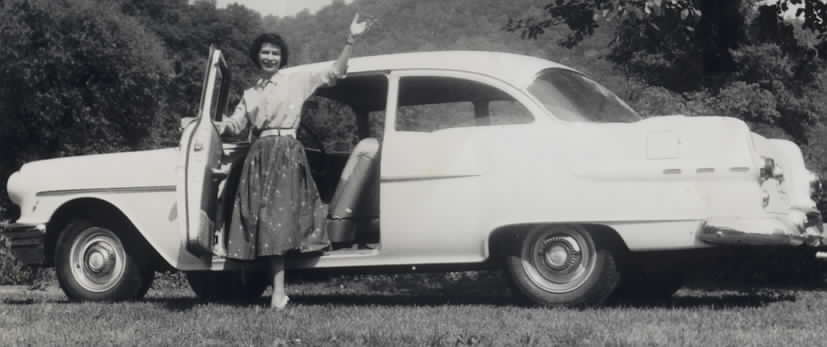 Her pride and joy, the '57 Ponty.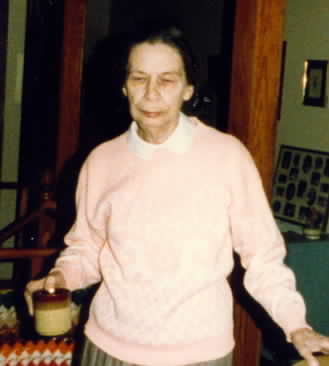 Hannah and the ever-present cough of cuppee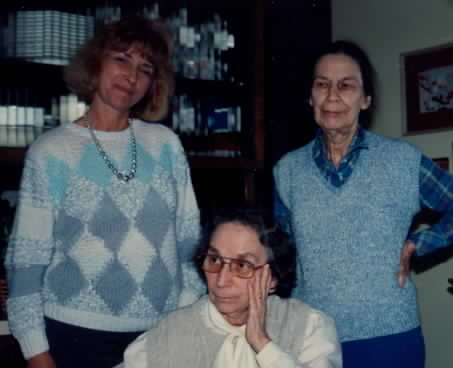 Linda Jo, Hannah, and Dot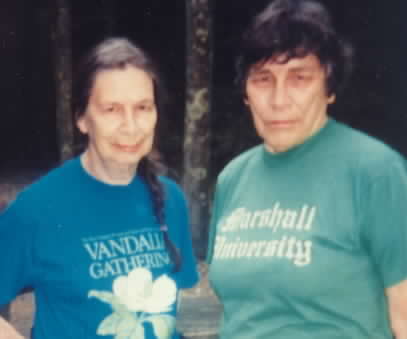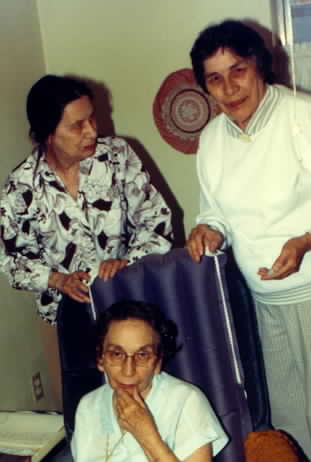 Hannah, Milly, and sister Dot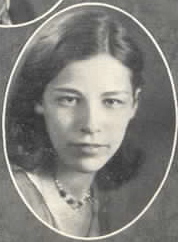 Milly's junior year high school yearbook photo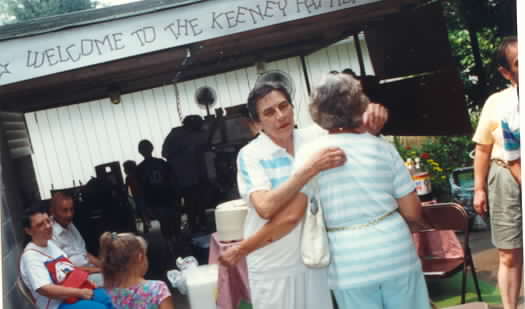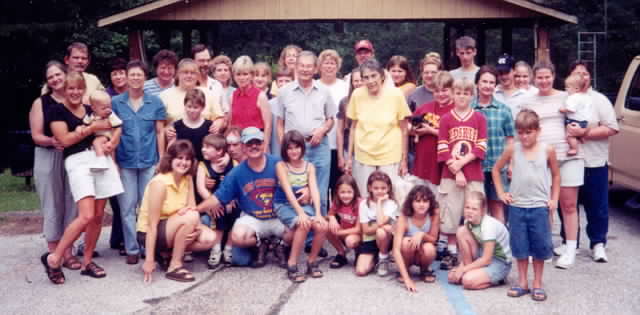 This is the 2001 Keeney Reunion. It looks to me as if it were held at St. Albans City Park. Hannah and Adrian have already passed away earlier this same year. Let's see how many I can name. Standing in center are two oldest present, brother and sister Buster (now gone) and Milly (still here in 2009) Keeney. At left in a group of four are Buster's daughter Becky and Amon Samples and their daughter Shannon with her infant. Next, going to the right, is an unrecognized face, then George and Frankie Keeney's daughter Lynn Lee Bright. Next to and behind Lynn is another unrecognized face, then who appears to be Maxine and Norman's oldest, Jeanne Carol Smith, with her hands on the shoulders of an unrecognized young one in a black top. Continuing right is Adrian and Dot Gwin's younger, my late brother Pat. Next and behind Pat is another unrecognized face, then Jeanne's sister Mary Chloe Meadows, then two more unrecognized faces. One either side of Buster are Mary's daughter Leah and Jeanne's and Mary's sister, Dorothy Jane Smith. I'm sorry that of the remaining dozen or so standing, I can only recognize Joe Bill Keeney in the green and white plaid shirt. And of the nine in the front row kneeling or sitting on a lap, I recognize only Teresa (at left) and Mack Keeney (with his hand on her knee). So of the forty present, I recognized 14 (or 35 percent). Readers, can you help with any of the rest (or correct any errors I may have made)? Email me at jmcdgwin@zianet.com -- thanks! John Gwin (photographer unknown)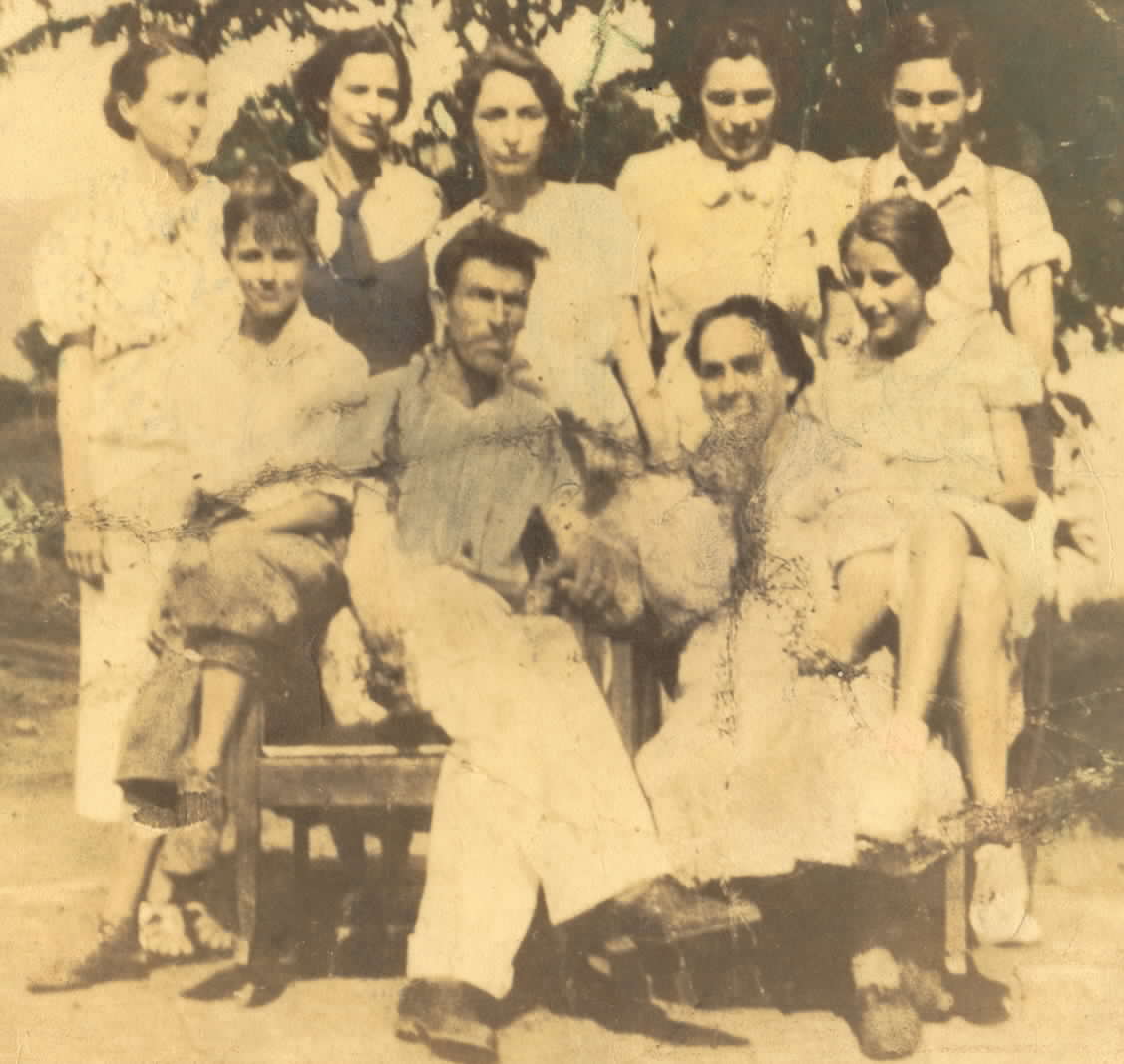 l-r, sitting:

George, Mack, Mamie, and Bennie;

standing:

Maxine, Hannah, Dot, Milly, and Buster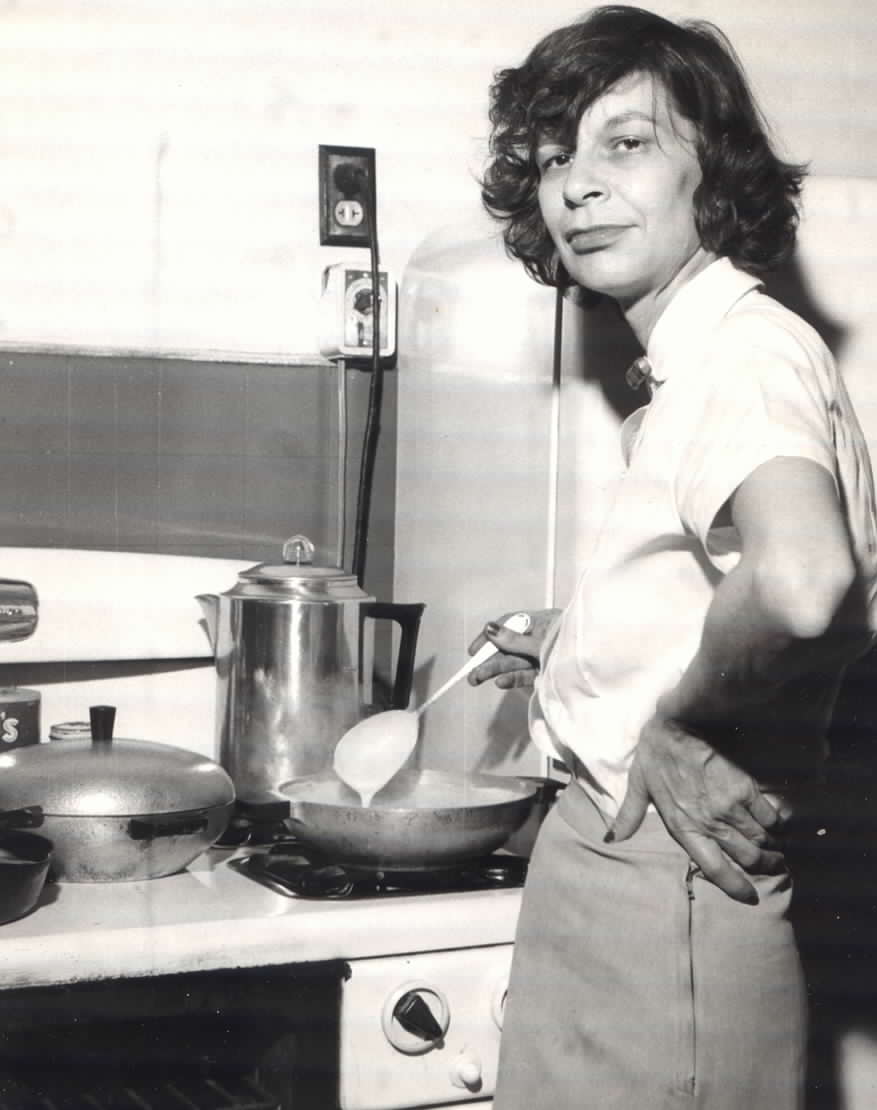 Hannah in 1956 at 2000 Orchard Ave. cooking dinner for 28; photo by Adrian Gwin

---
From Holt's Facebook Page, 1 Sep 2011

---
John M. Gwin Holt, THANK you, Cousin, for your labor of love in serving as her guardian so faithfully.

Mickey Harless In 1979, the night before my high school graduation in Inman, SC, I was awakened during the middle of the night. Milly had driven from Witcher all the way to Inman to attend my graduation. A few years later I got to spend a year with Milly & Hannah while I attended WV Tech. Milly will always have a most special place in my heart and I look forward to seeing her again one day in heaven. Praise God, Milly's gone home.

Pam Rees Biggerstaff I am very sorry for your loss!!

Mickey Harless Thank you Pam